Your location: Home
Food and Drink Directory
Food and Drink Directory
The Food and Drink Directory is the essential guide to your gluten free diet.
It contains foods that you can eat if you have coeliac disease.
Remember to keep your printed Directory up to date with updates we provide.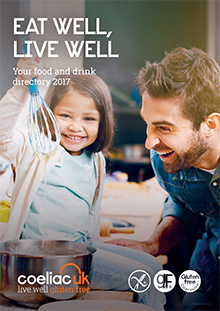 The Coeliac UK Food and Drink Directory is the essential guide for a gluten free diet and lists thousands of products you can eat. The electronic Food and Drink Directory can be accessed by logging in as a Member and includes the most up to date information. It's also available via our mobile phone app Gluten free on the Move.
The Food and Drink Directory is split into two sections, to reflect the laws that apply to gluten free foods.
Section 1
Foods in this section include:

specialist, substitute foods
foods on prescription
supermarket own brand 'Free From' foods
some mainstream foods that are labelled gluten free
foods carrying the Coeliac UK Crossed Grain symbol.
Section 2
Lists foods made without gluten containing ingredients and with controls in place to minimise the risk of cross contamination with gluten-containing ingredients.
Foods in this section include everyday foods you find on the supermarket shelves such as soups, sauces and ready meals and supermarket own brand foods.
You may find that some of your favourite products are not listed in this year's Directory. Some manufacturers do not provide the information we require or no longer comply with the criteria for inclusion in the Directory. If you have any questions please see our frequently asked questions or contact us.
Updating your Directory
It's very important that you keep your Food and Drink Directory up to date. Products sometimes change and new products appear on the market. We provide monthly updates to keep your Food and Drink Directory as up to date as possible.
There are many ways to update your Food and Drink Directory:
on the link via the homepage of our website
by following the links on our electronic newsletter
via a 24 hour recorded message on 0333 332 2033, select option one.
More Food and Drink Directory links
Print page
Add to My Scrapbook