Your location: Home
Chicken, Watercress & Orange Sandwiches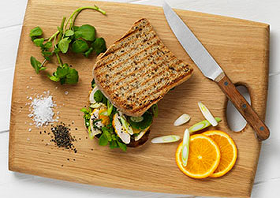 Chicken, Watercress & Orange Sandwiches
This fresh, summery filling tastes best in seeded or brown rolls and bread. Marinate your chicken for at least 1 hour before grilling or barbecuing to enhance its succulence and flavour.
Credited to: Genius Gluten Free
Kcal:
Serves 2
15 mins prep
10 mins cooking time
Ingredients
Genius Seeded Brown Farmhouse Loaf
Butter for spreading
1 large skinless boneless chicken breast, sliced through lengthways
For the marinade:
2 tbsp extra virgin olive oil
Zest and juice of 1 orange
1 large garlic clove, crushed
2 grinds of black pepper
For the salad garnish:
Handful watercress
1 medium orange, peeled & sliced into thin rounds
1 spring onion, finely sliced
4 mint leaves, finely chopped
1 tbsp extra virgin olive oil
Pinch of salt and 2 grinds of black pepper
Method


Blend the marinade ingredients together in a bowl large enough to hold a chicken breast


Place the chicken breast in the bowl, and coat with the marinade. Cover and leave to marinate in the fridge for at least 30 minutes


Preheat the grill


Meanwhile, toss the watercress, orange, spring onion & mint with the olive oil in a large bowl. Season with salt and pepper and toss again. Set aside


Remove the chicken from the fridge and lift out of the marinade. Place on a baking sheet and grill for 3 mins on each side, or until lightly charred and cooked through, brushing with the marinade at least one on each side


Thickly slice the chicken and arrange on the base of the bread slices


Place a small handful of the salad on top of the chicken, gently press the top slices in place and serve immediately.


Hints and tips: