Your location: Home
Aubergine, Tomato and Parmesan Oaty Bake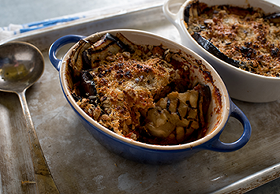 Aubergine, Tomato and Parmesan Oaty Bake
Now that winter is setting in and the evenings are starting to get a little colder, this recipe makes for a tasty, warming dinner. Adding crushed oatcakes makes for a delicious crunchy topping.
Credited to: Nairn's
Kcal:
Serves 2
15 mins prep
20 mins cooking time
Ingredients
2 garlic cloves, crushed
2 tablespoons coconut oil
1 tin of chopped tomatoes
1 tablespoon of tomato puree
Pinch of dried mixed herbs
2 aubergines cut into thin slices
50g grated parmesan
1 egg beaten
5 Nairn's Gluten Free Oatcakes, crushed
Method


Preheat oven to to 180c


Cook garlic and half of the coconut oil in a pan until soft and add in the tomatoes, herbs and puree


With the remaining coconut oil, griddle aubergines in a griddle pan until browned (about 5mins). If you don't have a griddle pan lightly fry instead


Soak any excess moisture on kitchen towel


Layer an oven proof dish with the aubergine then spoon on the tomato mixture


Top with the beaten eggs and then sprinkle the grated parmesan and oat crumb mixture on the top


Place in the oven for 20 mins or until golden.


Hints and tips: