Your location: Home
Mexican Bean Bites with Guacamole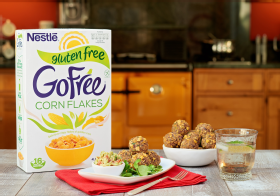 Mexican Bean Bites with Guacamole
Credited to: Nestlé GoFree
Kcal: 444.0
Difficulty: Pretty easy
Serves 4
15 mins prep
45 mins cooking time
Ingredients
Ingredients for the bites:
1 tbsp oil
1 onion (diced)
2 cloves of garlic, minced
1 tsp ground cumin
250g mushrooms (chopped)
Salt and pepper to season
1 Habanero chili, chopped or ½ tsp chilli flakes
1x 400g cans of kidney beans (drained and rinsed)
2 tbsp fresh coriander, chopped
½ lemon (juiced)
100g Nestlé GoFree Corn Flakes
1 avocado - peeled, pitted, and mashed
½ lime, juiced
½ tsp salt
1 spring onion, sliced
1 tbsp chopped fresh coriander
1 plum tomato, diced
½ tsp garlic, minced
½ tsp ground cayenne pepper (optional)
Method


Preheat the oven to 180˚C and line a baking sheet with parchment paper


Heat the oil in a large frying pan, then add the onion and cook for 5 minutes


Next, add garlic, cumin and mushrooms and cook for another 2 minutes. Stir in the coriander, salt, pepper, and the chilli. Add the beans and stir, letting the mixture cook for 1 minute


Blend the mixture in a food processor until it all comes together. Add ½ the coriander and 75g of the Corn Flakes, and blend again, until the mixture is well combined. Allow to stand for 5 minutes so that the Corn Flakes absorb the moisture and the mixture firms up


Meanwhile, place the remaining 25g of Corn Flakes and coriander into a bowl and mash up the Corn Fakes so they break into large crumbs


Take a tablespoon-scoop of the mixture and roll it into a ball in your hands. Roll it around in the bowl of Corn Flakes and coriander and place it on the baking sheet. Repeat until all the mixture is used


Bake for 20 minutes, until even and golden brown


Meanwhile prepare the guacamole by placing all the ingredients together in a bowl. Mix to combine and serve with the Mexican bites.


Nutritional information per serving