Your location: Home
Gluten Free Blueberry and Honey Crunch Muffins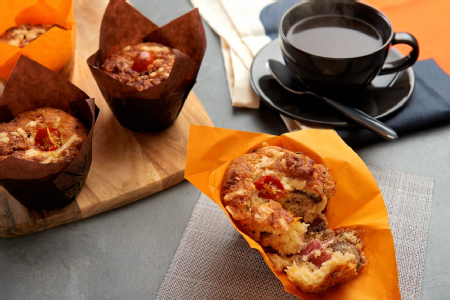 Gluten Free Blueberry and Honey Crunch Muffins
Credited to: Nestlé GoFree
Kcal: 247.0
Difficulty: Pretty easy
Serves 8
10 mins prep
25 mins cooking time
Ingredients
125g (5oz) plain gluten free flour
1 tsp baking powder
pinch salt
100g (4oz) butter, softened
100g (4oz) caster sugar
1 large egg
1 tsp lemon juice
60ml milk
150g (6oz) blueberries
50g (2oz) Nestlé GoFree Honey Flakes
Method


Preheat the oven to 180C, 350F. Line your muffin tin with paper cases


Mix together the flour, baking powder and salt in a bowl and set aside


In a mixing bowl, combine the butter and sugar. Beat on medium-low speed until creamy, then add the egg and mix until it's combined


Add the dry ingredients and mix on low speed. Mix until thick. Stop the mixer and add the milk and lemon juice. Now mix again until a thick batter forms


Gently fold in the blueberries and half of the Honey Flakes with a rubber spatula


Spoon the batter into prepared paper cases. Fill each cavity about 2/3 full. Top each muffin with a good sprinkle of the remaining Honey Flakes


Bake for about 25 minutes, or until a cake skewer placed into the muffin comes out clean


Allow the muffins to cool in the pan for five minutes and then transfer to a wire rack to cool completely.


Nutritional information per serving