Your location: Home
Beer batter fish with chips and tartare sauce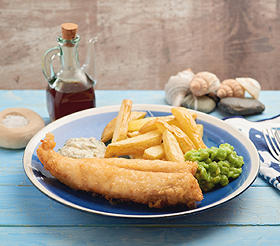 Beer batter fish with chips and tartare sauce
There is nothing like fish and chips but I know how difficult it can be to find good gluten free fish and chips, free from cross contamination, when you are out and about. This is a delicious recipe so you can enjoy it at home whenever you want! By shallow frying the fish and oven baking homemade chips, this recipe offers a lighter take on a seaside classic.
Credited to: Chris Bavin, TV presenter
Kcal:
Serves 4
30 mins prep
30 mins cooking time
Ingredients
800g Maris Piper or King Edward potatoes, scrubbed
4 tbsp rapeseed oil
125g gluten free flour, plus extra for coating the fish
150ml chilled gluten free beer (or chilled sparkling water)
4 x 150g boneless skinless white fish; red bream, cod, hake, or haddock
300g mushy or frozen peas
For the tartare sauce:
200g light mayonnaise
25g small gherkins
25g capers
1 small shallot, peeled and quartered
10g fresh parsley
½ lemon, juiced
sea salt and freshly ground black pepper
Method


Preheat the oven to 220C/200C Fan/Gas 7 so it's hot and ready for the home made oven chips


Cut the potatoes into thick chunky chips leaving the skin on. Then place the potatoes in a saucepan, and cover with just enough cold water so that they are all submerged


Bring the pan to the boil and simmer for 5 minutes until the potatoes are just tender but still firm


Drain and leave to dry for a few minutes in the colander


Now, place the chips onto a large oven-proof tray, drizzle with a little of the oil, (enough to give a light coating, reserving the rest to cook the fish), season with salt and pepper, and then toss gently until they are fully coated with the oil and seasoning


Place in the hot oven and roast for 20-25 minutes until golden brown, crisp, and cooked through


While the chips are cooking, make the gluten free batter and tartare sauce. For the tartare sauce, place all the ingredients in a small blender and blitz for 30-45 seconds, until they are all combined and roughly chopped. If you don't have a blender, finely pre-chop the gherkins, capers, shallots, and parsley before combining with the mayonnaise and lemon juice


For the batter, tip the gluten free flour into a bowl and season with salt and pepper. Add the gluten free beer gradually, stirring to get a smooth batter with the consistency of double cream. Once it comes together, stop mixing so you keep the bubbles in it, thus creating a light batter


Dip the fish in a little of the extra gluten free flour (this will help the batter to stick) then into the batter, coating both sides and making sure that the fish is covered


Heat a large non stick frying pan until hot. Add the remaining rapeseed oil, and when it is hot, add the fish, laying it down away from you so the oil doesn't spray up at you. Cook on one side until the batter has just puffed up and turned light golden-brown then flip over and cook on the other side


Drain both the chips and fish onto parchment paper to remove any excess oil, then serve with the peas and tartare sauce.


Hints and tips:
Vegetarian? Simply swap the fish for halloumi.