Your location: Home
Chocolate Coated Walnut Protein Bar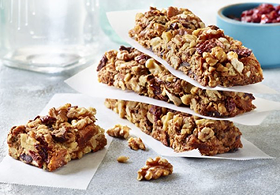 Chocolate Coated Walnut Protein Bar
A delicious, healthy no bake oat bar lightly scented with fresh lemons and dates and topped with a wonderful dairy free chocolate icing. Perfect as a satisfying breakfast on the go, mid morning snack, packed lunch or exercise booster.
Credited to: Nairn's
Kcal:
Serves 18
15 mins prep
120 mins cooking time
Ingredients
For the bars:
Grated zest and juice of 3 lemons
115g / 4oz pitted chopped dates
4tbsp xylitol
50g / 2oz walnut butter
150g / 5oz cashew nuts ground to a fine flour
4tbsp ground flaxseed
115g / 4oz Nairn's gluten free porridge oats
115g / 4oz finely chopped walnuts
50g / 2oz chopped dried dates
25g /1oz sunflower seeds
50g /2oz desiccated coconut
Walnut chocolate icing:
2tbsp walnut butter
200g / 7oz dairy free dark chocolate
2tbsp xylitol
Method


Place the lemon juice, zest, dates, xylitol and walnut butter in a blender and process to form a smooth puree


Place the rest of the ingredients into a large bowl and stir to combine. Add the date puree and mix thoroughly


Grease and line a rectangular tray bake approximately 30cmx20cm. Spoon the mixture into the tin and press down firmly to form a dense bar. Chill in the fridge for 1 hour


Place the chocolate in a pan with the xylitol and heat very gently to melt. Stir in the walnut butter and beat well. Pour over the walnut bar and spread thinly


Leave to set for a further 1 hour to harden


Cut into bars. Store in the fridge or freeze in batches.


Hints and tips: