Your location: Home
Prewett's Gluten Free Digestive Biscuit Base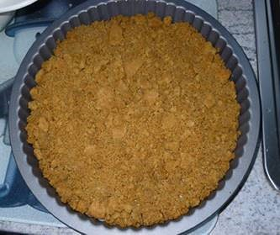 Prewett's Gluten Free Digestive Biscuit Base
Prepare yourself for the festive season with a fully flexible Gluten Free Digestive Biscuit Base. An ideal biscuit base for tarts, pies and cheesecakes of your choosing. Made from Prewett's certified gluten free digestives.
Credited to: Prewett's
Kcal:
Serves 1
10 mins prep
5 mins cooking time
Ingredients
125g finely ground Prewett's Gluten Free Digestives
85g of melted butter
Half teaspoon of ground cinnamon for a festive addition – optional
Method


Preheat the oven to 190c or gas mark 5.


Crumb the Prewett's gluten free digestives.


Mix the biscuit crumbs, melted butter and cinnamon (if chosen) until well blended.


Press the blended mixture into a 20cm (8") or 23cm (9") pie dish or tart tin.


Bake in the preheated oven for seven minutes.


Remove from oven and cool.


Alternatively if the recipe requires an unbaked base at this stage, chill in the fridge for about 60 minutes
You now have the perfect gluten free base for a tart, pie or cheesecake.