Your location: Home
Marinated Yoghurt Spiced Chicken & Bean Rice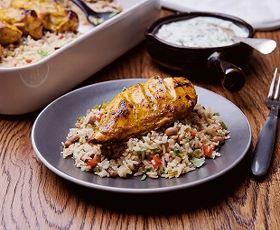 Marinated Yoghurt Spiced Chicken & Bean Rice
The brown basmati rice works really well in this dish. Not only is it packed full of fibre but it's really tasty too. If you have any left over, served cold it makes a great rice salad.
Credited to: Coeliac UK
Kcal: 657.0
Difficulty: Pretty easy
Serves 5
20 mins prep
30 mins cooking time
Ingredients
For the chicken
5 chicken breasts

300ml natural yogurt

1 tbsp curry paste*

1 red chilli, chopped

1 tbsp fresh coriander, chopped
For the rice
350g brown basmati rice*

1 tbsp olive oil

1 red onion

1 red, 1 green pepper diced

1 can black eye beans

1 tbsp fresh chopped coriander
For the yogurt dressing
200ml yogurt

50g radishes

¼ of a cucumber

1 clove of garlic

Salt and pepper to taste
Method



First mix the natural yogurt, curry paste, red chilli, and coriander.




Make three cuts across the chicken breast, then coat the breast in the yogurt mixture and place into the fridge to marinade. Leave for at least two hours, and preferably overnight.




To prepare the rice, cook the brown basmati following the on-pack instructions. When the rice is tender, drain off the water and keep the rice warm.




Heat the oil in a frying pan and fry the onion and peppers for five minutes until soft. Add the drained black eyed beansand stir to warm through.




Add the onion and pepper mix to the warm rice. Season with the coriander and stir to combine the ingredients together.




To cook the chicken, grill or oven bake it until it is cooked through; oven baking will take about 25 minutes at 180C, 350F, gas mark 4.




To make the yogurt dressing, grate the radishes and cucumber onto a clean kitchen towel or paper towel. Now wrap the towel around the grated food and squeeze it over a sink to remove as much water as possible. Then mix the radishes and cucumber with the garlic and yogurt, and season to taste.



Notes: *Search our Food and Drink Directory for suitable products.
Nutritional information per serving
Hints and tips: