Your location: Home
Hornazo - Spanish Meat Pie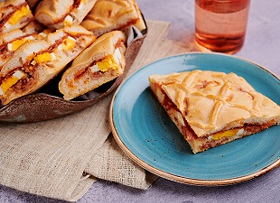 Hornazo - Spanish Meat Pie
This is a traditional bread, more like a meat pie with a bread crust as opposed to the traditional pastry crust. is made and eaten traditionally on the Monday after Easter in Spain. The best part about this bread is that it is a complete meal by itself. You can change or alter the filling to suit. We have stuffed it with bacon, chorizo, and hard-boiled eggs. It can be served as it as a snack, grab and go options or eat it for breakfast. I also tried it with roasted peppers, onion and cheese and that was a hit.
Kcal: 430.5
Difficulty: More of a challenge
Serves 8
50 mins prep
35 mins cooking time
Ingredients
6 eggs
2 tbsp oil
200g lean smoked bacon, chopped
350ml warm water
7g dried yeast*
1 tsp honey
1 tsp cider vinegar
2 tbsp vegetable oil
450g gluten free bread flour*
200g sliced chorizo
Method


First, you need to boil 4 of the eggs for the filling. To do this place them into cold water and bring to the boil. Simmer for 6 minutes, then remove from the heat and place in cold water to cool down. When cold, peel and slice. Then reserve until needed.


Next, heat the oil in a pan and fry the bacon, until it's cooked through, then reserve this and the fat and oil that gets released from the bacon.


To make the bread dough, mix the lukewarm water with the yeast and the honey and leave it in a warm place till it froths, or for about 10 minutes. Then add the cider vinegar and oil and two remaining eggs.


In a large mixing bowl add the gluten-free flour and salt, then add the yeast mix. Mix until everything has combined – the dough will be very sticky.


On an oven tray, place a layer of tin foil and brush with oil. Add half the bread batter and spread it out so it's about 1 cm deep and forms a rectangle of approximately 20cm x 30cm.


leaving a 2 cm gap on all sides, layer the sliced chorizo, then the bacon and fat and finally the sliced hard-boiled eggs.


Cover ¾ of the remaining dough and spread over with a knife so it covers all the filling


Now place the small amount of dough that's left in a piping bag and reserved until the bread is proved.


Cover the bread with a damp cloth and leave it for another 30-35 minutes till it rises to double its volume.


Pipe the reserved dough into a lattice finish on top of the bread.


Preheat the oven to 200 degrees and bake for 30-35 mins or until golden on top. The bread is done if it sounds hollow when tapped lightly on the surface.


Remove, brush with olive oil and then leave to cool completely before you slice it. The bread will seem very hard from the outside but once it cools down it will be nice and spongy inside with a slightly hard crust.


Nutritional information per serving
Hints and tips:
Try this with different fillings, go veggie with roasted peppers, onion and cheese. These will keep for 3 days in the fridge, to reheat pop then in the microwave for 30-45 seconds to soften the bread.