Your location: Home
Ham hock & pickled onion sandwich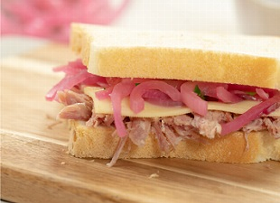 Ham hock & pickled onion sandwich
Spruce up your ham sandwich this lunchtime by adding these super simple homemade pickled onions! So easy to make and they're a tasty addition to any sandwich – perfect housed between slices of soft Juvela gluten free fresh white or fibre loaf. Find out more about our gluten free range and search for delicious recipe ideas at www.juvela.co.uk
Credited to: Juvela
Kcal: 475.2
Difficulty: Pretty easy
Serves 1
5 mins prep
15 mins cooking time
Ingredients
2 slices Juvela Gluten Free White or Fibre Sliced Loaf
Butter for spreading
1 red onion, thinly sliced
Zest & juice of a lime
1tbsp freshly chopped coriander
50g ham hock
25g extra Emmenthal (or mature cheddar), sliced
Method


Blanch the onion in boiling water and allow to stand for 15minutes.


Drain with cold water and pat dry with kitchen roll.


Squeeze with lime juice and add zest and coriander.


Allow to chill for 20minutes.


Pile the ham hock on one slice of bread, top with cheese and onions and sandwich together.


Nutritional information per serving
Hints and tips: