Your location: Home
Leek and Cheese Crumble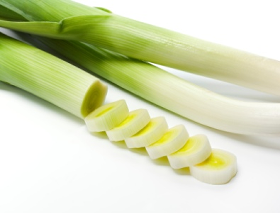 Leek and Cheese Crumble
Credited to: The Vegetarian Society
Kcal: 321.0
Serves 4
20 mins prep
15 mins cooking time
Ingredients
500g (18oz) leeks, trimmed
400ml (14fl oz) stock*
100ml (3½oz) single cream
1 tbsp (15g) wholegrain mustard*
100g (3½oz) gluten free breadcrumbs*
30g (1oz) skinned hazelnuts
2 tbsp (30g) parsley, roughly chopped
125g (4½oz) vegetarian cheese, Caerphilly and/or Cheshire, finely grated or crumbled
Method


Pre-heat oven to 200°C/400°F/Gas Mark 6


Slice the leeks into thick circles (no larger than 2cm) and place in a large saucepan with the stock, cream and mustard. Cook gently for 15 minutes until starting to soften


Transfer to a ceramic baking dish, setting aside 2 or 3 tbsp of the stock mixture


Place the breadcrumbs, nuts and parsley in a food processor and mix together until finely chopped


Scatter the crumble and cheese over the leeks and drizzle the remaining stock mixture over the top


Bake for 10-15 minutes until starting to turn crisp and golden. If necessary finish under the grill.


Notes: *Please check your Food and Drink Directory for suitable products.
Nutritional information per serving
Hints and tips: