Your location: Home
Soft-baked vanilla cookies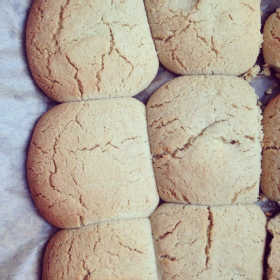 Soft-baked vanilla cookies
Credited to: Mrs Judith Brown
Kcal:
Serves 16
15 mins prep
15 mins cooking time
Ingredients
340g (12oz) gluten free self-raising flour*
60g (2oz) ground almonds
170g (6oz) butter
2 eggs
2 tsp (10ml) vanilla extract
Method


Put all the dry ingredients into a bowl and mix well together


Melt the butter and beat the eggs, add to the dry mixture with the vanilla extract


Mix thoroughly and put into the fridge for about 30 minutes


Then divide the mixture into approximately 16 cookies. Put on a baking sheet covered with cooking parchment-lightly press the top of the cookies with the back of a fork to flatten


Bake in a preheated oven at 180

°C

/350

°F/Gas Mark

4

for 12-15 minutes and keep checking regularly


Cool on a wire rack and enjoy


Notes: *Please check your Food and Drink Directory for suitable products.
Hints and tips:
These cookies will freeze.