Your location: Home
Pea soup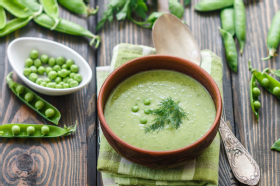 Pea soup
Glorious, green, and bursting with goodness: this soup is not just healthy, but also incredibly easy to make.
Credited to: Mrs Judith Brown
Kcal: 146.0
Serves 8
10 mins prep
30 mins cooking time
Ingredients
1kg (2.2lbs) frozen peas
2 bunches of spring onions, trimmed and roughly chopped
A small bunch of fresh mint
4 medium potatoes, peeled and diced
1L (35 floz) chicken stock*
Method


Put the spring onions into a large pan with the potatoes and chicken stock. Bring to the boil, turn down the heat and simmer for approximately 15 minutes or until the potatoes are soft. Stir in the peas and chopped mint and simmer for a further 5 minutes.


Remove from the heat and whizz with a food processor until smooth. Taste and season with salt and pepper.


Notes: *Please check your Food and Drink Directory for suitable products.
Nutritional information per serving
Hints and tips:
You can cover and refrigerate the soup for up to 4 days – so why not make a big batch ahead of time so you've got a quick and easy meal ready to go.