Your location: Home
Chicken, mangetout & courgetti miso ramen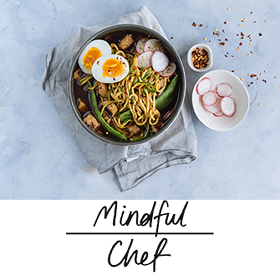 Chicken, mangetout & courgetti miso ramen
Mindful Chef make dinnertime more exciting with their fresh, creative gluten free recipes that are bursting with flavour. They do all the hard work for you with their healthy recipe boxes. They plan, source and deliver all the fresh, good for you ingredients you need to create delicious, innovative recipes. Here is one of their favourite dishes, Chicken, mangetout & courgetti miso ramen.
Credited to: Mindful Chef
Kcal: 424.0
Serves 2
25 mins cooking time
Ingredients
100g (3½oz) mangetout
120g (4oz) chestnut mushrooms
½ tsp red chilli flakes
2 eggs
2 tbsp (30ml) brown miso
2 tbsp (30ml) oil
2 tsp (10g) tamari
2 x 180g (6oz) free-range chicken breast
300g (10½oz) courgette
4cm fresh ginger
60g (2oz) radishes
Method


Boil a kettle. Place the eggs in a saucepan, cover with boiling water and simmer for 6-8 minutes for soft boiled. Then cool the eggs under cold running water for 30 seconds, then peel and cut in half


Thinly slice the chestnut mushrooms and trim the mangetout. Slice the radishes thinly and peel and finely chop or grate the ginger


To make the courgetti noodles, remove the ends of the courgette, but leave the skin on. Prepare the courgette noodles using a peeler and slice the courgette into long thin strips (or use a julienne peeler or spiralizer if you have one)


Slice the chicken into bite-sized pieces. Heat a frying pan with 1 tbsp oil and cook the ginger and chicken for 7 mins, then add the mushrooms and mangetout and cook for a further 3 mins until the chicken is cooked through


Meanwhile, pour 600ml boiling water into a saucepan and stir in the brown miso and tamari. Leave to simmer for 3 mins and add the courgetti noodles for 2 mins. Then stir in the chicken, mangetout and mushrooms


Spoon the courgetti miso ramen into two warm bowls and top with the egg halves, radishes and sprinkle with the chilli flakes.


Notes: *Please check your Food and Drink Directory for suitable products.
Nutritional information per serving
Hints and tips:
Recipe for two people, halve the ingredients for one person.
Allergens:
Celery, Eggs, Soya