Your location: Home
Smashed Avocado and Poached Egg on Toast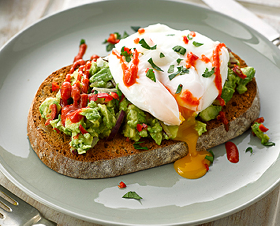 Smashed Avocado and Poached Egg on Toast
Perfect for brunch, use Newburn Bakehouse by Warburtons' handcrafted artisan range to make this simple but delicious recipe. We've used the Seeded Sourdough Artisan Boule although the recipe can easily be adjusted to use any of the 4 products in the range. Add a dash of hot chilli sauce, for that extra kick.
Credited to: Newburn Bakehouse by Warburtons'
Kcal:
Serves 1
7 mins cooking time
Ingredients
1 slice of Newburn Bakehouse Seeded Sourdough Artisan Boule
2 ripe avocados, peeled and de-stoned
½ red onion, finely chopped
½ juice of lime
½ tsp chilli flakes
A pinch of salt and pepper
1 egg
1 tbsp (15ml) white wine vinegar
Hot chilli sauce
A pinch of chopped coriander
Method


Mash together the avocado, red onion, chilli, lime juice, salt and pepper in a bowl


For the poached egg, boil a saucepan of water and bring to a simmer, add the vinegar. Break the eggs into the saucepan and poach for 3-4 minutes. Remove with a slotted spoon and drain


Meanwhile, toast the slice of Seeded Sourdough


Top the toast with the smashed avocado first, perfectly poached egg second and then drizzle on a little of the the hot chilli sauce


Sprinkle on the coriander and any remaining chilli flakes


Notes: *Please check your Food and Drink Directory for suitable products.