Your location: Home
Gluten Free Blueberry and Almond Tart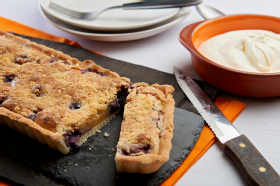 Gluten Free Blueberry and Almond Tart
Our Home Economist has created this delicious gluten free tart for you to try at home. The sweet and buttery shortcrust pastry combined with the fresh taste of blueberries is a winning combination. You won't be able to stop yourself from going back for more!
Credited to: Coeliac UK
Kcal: 497.0
Difficulty: More of a challenge
Serves 8
15 mins prep
35 mins cooking time
Ingredients
Gluten Free Sweet Shortcrust Pastry:
175g (7oz) gluten free plain flour*

¼ tsp xanthan gum

50g (2oz) caster sugar

75g (3oz) unsalted butter

1 egg
Gluten Free Crumble Topping:
25g (1oz) Gluten Free plain flour*

10g (½oz) butter

10g (½oz) caster sugar
Blueberry and Almond Filling:
100g (4oz) blueberries

125g (5oz) butter

125g (5oz) caster sugar

125g (5oz) ground almonds

1 free-range egg, beaten
Method



Preheat the oven to 200

°

C/400

°

F/Gas Mark 6 (180

°

C Fan)




To make the pastry, measure and sieve the flour, xanthan gum, and sugar into a bowl. Rub in the butter with your fingertips until the mixture resembles fine breadcrumbs. Add the egg and mix to form a soft dough




Roll out the dough between two sheets of cling film on a cold surface and then line a flan tin with it. Trim the edges so it is tidy




Mix the crumble topping by rubbing together the flour, butter, and sugar so it forms a crumb. Put this to one side




For the filing, cover the base of the flan generously with blueberries




Mix the butter until it is soft, and then stir in the sugar, ground almonds and egg. Then place into the flan tin and top with the crumble topping




Bake for about 35 minutes, or until golden and cooked through.



Notes: *Please check your Food and Drink Directory for suitable products.
Nutritional information per serving
Hints and tips: