Your location: Home
Gluten free coconut and sultana flapjack bars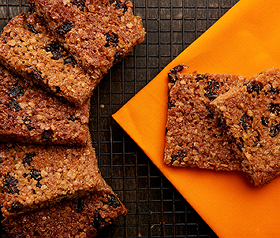 Gluten free coconut and sultana flapjack bars
Buckwheat flakes are naturally gluten free and great for this recipe as an alternative to oats as I know some people can be sensitive to gluten free oats. Make sure that you buy ones that do not carry a "may contain" statement.
Credited to: Louise, Coeliac UK Home Economist
Kcal: 347.0
Difficulty: Pretty easy
Serves 12
10 mins prep
25 mins cooking time
Ingredients
200g (7oz) butter or margarine
200g (7oz) demerara sugar
2 tbsp (30g) golden syrup
275g (9½oz) buckwheat flakes*
100g (3½oz) desiccated coconut
100g (3½oz) sultanas
1 tsp (5g) ground cinnamon
Method


Preheat your oven to 170°C/325°F/Gas Mark 3


Grease and line 8" x 10" baking tin with butter and baking parchment


In a pan, melt the butter and sugar, together with the golden syrup


Add the melted mixture to the buckwheat flakes, coconut, sultanas, and cinnamon, and mix all the ingredients together


Spoon your mixture into your prepared tray baking tin. Make sure it is evenly pressed down


Put the tray into the oven for about 25 minutes or until the mixture is golden


Once done, remove from the oven and leave to cool in the tin for 10 minutes. Then cut into slices and placing on a cooling rack.


Notes: *Please check your Food and Drink Directory for suitable products.
Nutritional information per serving
Hints and tips: