Your location: Home
Quiche with Gluten Free Short Crust Pastry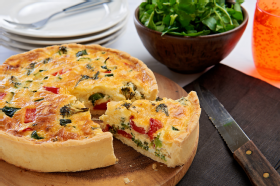 Quiche with Gluten Free Short Crust Pastry
Credited to: Coeliac UK
Kcal:
Serves 8
10 mins prep
25 mins cooking time
Ingredients
Gluten Free Short Crust Pastry:
350g (12oz) gluten free plain flour

1/2 tsp xanthan gum

150g (6oz) unsalted butter

2 eggs
For filling:
1 tbsp (15ml) oil

1 onion, diced

100g (3

½

oz) cooked broccoli, chopped

1 red pepper, diced

3 eggs

275ml (10fl oz) milk

150g (5oz) grated cheese
Method



To make the pastry, measure and sieve the flour and xanthan gum into a bowl and rub in the butter with your fingertips until the mixture resembles fine breadcrumbs. Add the egg, and mix to form a soft dough




Roll out the dough on a lightly floured work surface and then line a flan tin with it. Leave it in the fridge to chill for 30 minutes




Preheat the oven to 180

°

C/350

°

F/Gas Mark 5




Heat the oil in a frying pan and fry the onion, broccoli, and pepper for about 5 minutes or until soft. Leave to cool




Line the raw pastry case with baking parchment and baking beans, and bake blind the pastry case for 20 minutes. Remove the beans and baking parchment




Place the cooked vegetables into the cooked pastry. Mix together the milk, eggs, and cheese, and pour over the vegetables in the pastry case




Bake for about 35 minutes, or until golden and cooked through



Notes: *Please check your Food and Drink Directory for suitable products.
Hints and tips: