Your location: Home
Soft Gluten Free Brown Loaf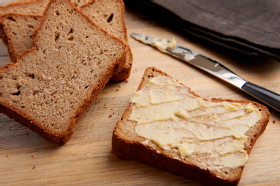 Soft Gluten Free Brown Loaf
This loaf is really easy to make you just need a 2lb loaf tin to bake the dough in.
Credited to: Coeliac UK
Kcal: 299.0
Difficulty: More of a challenge
Serves 8
25 mins prep
35 mins cooking time
Ingredients
1 tbsp (15g) active dry yeast
1 tbsp (15g) honey or sugar
325ml (12floz) tepid milk (warm, but not too hot, or the yeast will die)
450g (16oz) gluten free brown bread flour mix*
1½ tsp (7½ml) xanthan gum
4 tsp (20g) baking powder*
1 tsp (5g) salt
2 eggs
50ml (1½ fl.oz) oil
2 tsp (10ml) cider vinegar or lemon juice
1 tsp (5g) onion seeds (optional)
Method


Preheat the oven to 190

°

C/375

°

F/Gas Mark 6


Mix the yeast and the sugar in a small bowl. Add the warm milk and blend together, then leave it for 10 minutes, until the yeast starts to foam and bubble


Sieve together the flour, xanthan gum, baking powder and salt in a large bowl


In a third bowl, mix together the eggs, oil, and vinegar


Place the yeast mixture and the egg mixture into the bowl containing the flour mixture, and mix them all together. Stir until all ingredients are well mixed. This can be done easily using an automatic mixer for 3 minutes with the paddle blade, or by hand mixing with a spatula (You don't need to knead this dough; it will be more like a thick cake consistency)


Grease your 2lb loaf tin


Place the batter into the tin


Leave to rise for about 30 minutes or until doubled. Wet the top with water and sprinkle on the onion seeds if your using them


Bake in the oven for 35-40 minutes or until golden and cooked through


Notes: *Please check your Food and Drink Directory for suitable products.
Nutritional information per serving
Hints and tips:
This recipe also works in a

Panasonic SD-ZX2522 bread machine