Your location: Home
Penne with Fresh Mediterranean Vegetables and Aromatic Herbs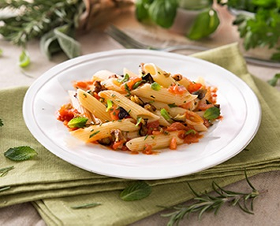 Penne with Fresh Mediterranean Vegetables and Aromatic Herbs
Create lovely pasta meals with Barilla and the fresh flavours of spring. This beautiful Barilla pasta recipe combines the classic flavours of courgette, aubergines and tomatoes with pecorino cheese, for a simple and healthy dish. The ridged and tube-like shape of the penne is excellent for holding small diced vegetables. Your whole family will love our delicious Barilla Gluten Free Penne! Made with an exclusive mix of ingredients, it has great taste and texture, ensuring an authentic Italian pasta experience.
Credited to: Barilla
Kcal:
Serves 4
20 mins cooking time
Ingredients
350g (12oz) Barilla gluten free penne rigate
200g (7oz) whole aubergine
200g (7oz) whole courgette
200g (7oz)
4 tbsp (60ml) extra virgin olive oil
A bunch of rosemary
Basil and mint leaves
Salt & pepper
Pecorino cheese
Method


Begin by bringing a pan of salted water to the boil for the pasta


Cut all the vegetables into small cubes


Heat a large non-stick pan, pour two tbsp extra virgin olive oil and sauté the chopped onion, before adding the rest of the vegetables along with the bunch of rosemary


Season with salt and white pepper and cook for a further five minutes, adding a few drops of water from the pasta


Remove the rosemary and add chopped mint and basil


Drain the pasta al dente and toss with the vegetables and the rest of the olive oil


Add grated pecorino and serve.


Notes: *Please check your Food and Drink Directory for suitable products.
Hints and tips: