Your location: Home
Afternoon tea treats
Afternoon tea treats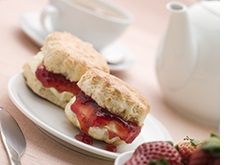 Sandwich ideas
You can buy gluten free fresh bread in most supermarkets now, so you should be able to easily make a nice selection of sandwiches.
Why not try some of these traditional fillings:
Salmon and cucumber
Roast beef and horseradish
Egg and cress
Smoked salmon and cream cheese
Cheese and salad
Cooked gammon and mustard.
Cake
You can't have afternoon tea without cake! Why not make a classic Victoria sandwich using the recipe below and fill with fresh cream and strawberry or raspberry jam. Or use the mixture to make small fairy cakes and decorate with coloured icing.
Victoria sandwich cake
Ingredients:
100g (4oz) butter or margarine
100g (4oz) caster sugar
2 eggs
1 tsp vanilla essence
150g (6oz) gluten-free self raising flour*
1 level tsp baking powder*
Icing sugar to dust
Jam and whipped cream to fill
*See your Food and Drink Guide for suitable products
Method:
Grease two 7 inch sponge tins
Cream fat and sugar until light and fluffy
Add eggs one at a time and beat thoroughly. Add vanilla essence. Add sifted flour and baking powder
Divide between two tins and bake in the centre of a preheated oven (180oC, 350oF, Gas Mark 4) and bake for 20-25 minutes
Allow to cool on a wire rack and fill with jam and cream. Dust the top of the cake with icing sugar to serve
Scones and cream
What better way to eat strawberries than with fresh cream and a nice scone! Use this recipe to make fresh gluten free scones or buy some from the Free From section of your local supermarket.
Gluten free scones (makes 8)
Ingredients
100g (4oz) gluten-free self raising flour*
1 rounded teaspoon baking powder*
25g (1oz) sugar
50g (2oz) margarine
1 egg, beaten
*See your Food and Drink Guide for suitable products
Method
Sift flour, sugar and baking powder into a bowl. Rub in the margarine. Mix in the egg to make a soft dough
Roll on a floured surface, cut into rounds and place on a greased baking tray
Bake in a preheated oven at 200oC, 400oF, Gas Mark 6, for 10-15 minutes
Leave to cool, slice in half and serve with fresh strawberries and clotted cream.
Drinks
If you are wondering which drinks to enjoy, there are plenty of both alcoholic and soft drinks which are gluten free.
Champagne and Pimm's are gluten free
Cider, wine, sherry, spirits, port and liqueurs are gluten free
Beer, lagers, stouts and ales contain varying amounts of gluten and are therefore not safe for people with coeliac disease. You can buy specially made gluten free beers and lagers and these are usually found in the Free From section of the supermarket and some health food stores
Fruit juice, flavoured waters, cordials and fizzy drinks are gluten free. Barley squashes are not suitable
If you are going for a traditional tea party, all teas are gluten free so why not try some different teas like Lady Grey or Darjeeling
Print page
Add to My Scrapbook