Your location: Home
All Hail the Kale
All Hail the Kale
Whilst it kales us all here at Coeliac UK that our CEO Sarah Sleet is moving on. We thought that there would be no better way to kale-memorate her departure by giving you some recipes centred around her favourite food ingredient.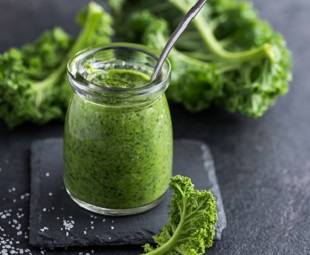 We rarely see a week go by at Coeliac UK without the green brassica being used in all manner of ways by Sarah to create delicious looking food. So we thought we would offer you five of our favourite ways to use and enjoy kale, all given the seal of approval and loved by Sarah.
Louise's Adapted Breakfast Muffins
"As mentioned in my breakfast muffin recipe, this is an easily adaptable recipe to include different flavours or textures. To create a vegetarian kale version, reduce the cherry tomatoes to 50g, replace the salami with 100g of finely chopped, steamed, drained Kale."
Lorna's Kale Pesto
"Pesto is very versatile. You can serve this pesto with gluten free pasta, add as a dressing with salad leaves, use as a dip with gluten free bread or crackers or use as a sauce over roasted vegetables, meat or fish."
"This can be used as a great topping for soups, casseroles, in a burger for extra texture or simply just an alternative to crisps and serve with a dip!"
"A fantastic way to sneak lots of vegetables into your child's diet, or even get them involved in forming the potato cakes with their (clean!) hands"
"This vibrantly green soup is easily doubled to serve a crowd. Serve as a starter or make a batch for weekday lunches"
Tell us your favourite or if you have any great ideas, why don't you share them with us either by submitting your recipe to our home of gluten free recipes of sharing a picture on social media.
Print page
Add to My Scrapbook