Your location: Home
Breakfast ideas
Breakfast ideas
We've heard from many of our members that breakfast can be the hardest meal to adapt when starting a gluten free diet. Here are a few simple breakfast ideas that are suitable for a gluten free diet.
Gluten free bread and breaded products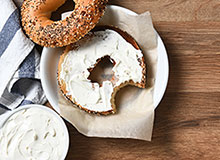 Toast

Homemade bread - search our Home of gluten free recipes for a range of

bread recipes

Flatbreads*

Bagels*

English muffins*/crumpets* - there are now a number of gluten free English muffins or crumpets available from the supermarket. A variety of toppings, such as jam, nut butter, avocado or eggs, can be added to create a nutritious and filling breakfast

Croissants*

Banana bread - search our recipes to see a range of

banana bread recipes

Scones, both savoury or sweet or drop scones

Fruit loaf*

French toast.
Toppings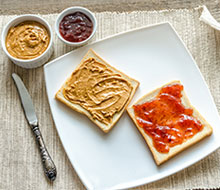 A range of different toppings can be added to toast, bread or flatbreads to create a tasty breakfast. Why not try any of the following:
butter, margarine

peanut butter and other nut butters, such as almond, cashew or sunflower seed butter

honey, marmalade, jam

eggs

cheese, why not try cheese on toast or bread topped with cream or cottage cheese?

yeast extract*

avocado

hummous*

baked beans*

smoked salmon or mackerel.
Muffins

Savoury or sweet muffins* are a delicious breakfast alternative and can be found in the free from section of your local supermarket or why not try making your own? Search our Home of gluten free recipes for a range of muffin recipes.
Breakfast cereals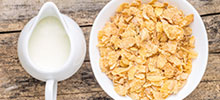 There are a wide range of different breakfast cereals* now available to suit a gluten free diet, ranging from fruity muesli to chocolate coated cereal. These can be eaten either with milk or yoghurt and various toppings can be added. Why not try adding a handful of dried fruit or a couple of tablespoons of some stewed apple, pear or prunes as one of your five a day. Search our Food and Drink Directory for a list of suitable products.
Oats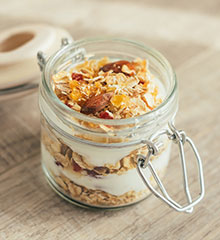 If you are able to tolerate gluten free oats*, including them in your diet is a good way of increasing the fibre content of your diet. Oats are a good source of soluble fibre which helps to maintain a healthy gut and can help to treat high cholesterol and keep blood sugars stable. Read more about gluten free oats.
Bircher muesli is an easy and nutritious breakfast combining oats, milk/yoghurt and your choice of toppings that you can make the night before.
Add a variety of toppings to your porridge oats. Why not try a handful of dried apricots, some stewed apple, pear or prunes, a couple of tablespoons of frozen berries or some mixed nuts and seeds to add flavour and texture.
Granola - there are now a good number of gluten free granolas* available in the supermarket or why not try making your own?
If you are not able to tolerate gluten free oats, alternatives to oats that you can use to make porridge include millet, rice, corn or quinoa. See your Food and Drink Directory for a list of suitable products.
Pancakes and waffles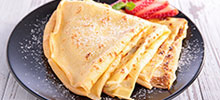 Pancakes are not just for Shrove Tuesday! They are always a family favourite and can be made either sweet or savoury. If time is an issue you can always try making the batter the night before and store in the fridge overnight.
Waffles are also a great breakfast choice and can be topped with a variety of different fruits, nuts and seeds or simply serve with honey, or golden or maple syrup for a sweet treat.
French toast

An ideal weekend breakfast, French toast is a delicious way to start the day and is often a firm family favourite. Try this simple French toast recipe.
Smoothies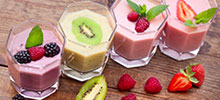 Not much time on your hands? Try a smoothie. Simply blitz together the milk of your choice with a handful of fruit and voila! You have a quick and nutritious breakfast. Yoghurt, oats and a variety of fruits can be added to alter the flavour and texture. Plain yoghurt or a smoothie bowl topped with frozen, fresh, or stewed fruits, nuts, seeds, granola*, dried fruit, nut butters, honey, fruit purees, or gluten free cereal. Choose a lactose free yoghurt if you are currently following a gluten free and lactose free or low lactose diet.
Eggs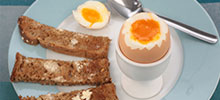 Naturally gluten free and a great source of protein, eggs are so versatile and a great breakfast option. Try them boiled, scrambled or poached, or make a simple omelette or frittata. Adding different toppings to your omelette or frittata such as cottage cheese, grated cheese and herbs and spices is a great way to add flavour, and you can easily incorporate some vegetables such as a handful of fresh or frozen spinach or some sliced mushrooms or why not try grating some courgette or carrot in to your dish. This is also a quick and easy way to have one of your recommended five a day.
Meat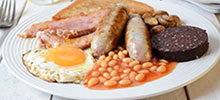 Sausages*, bacon, ham and black pudding* are all alternative breakfast options and can be included in a healthy, balanced gluten free diet. Try adding ham to an omelette or frittata or try a ham and cheese toasted sandwich as an alternative breakfast option. Serve a couple of sausages or a couple of slices of bacon with toast, baked beans, grilled tomatoes and mushrooms and a poached or scrambled egg for a healthier take on a fried breakfast.
Tried and tested recipes
We wanted to celebrate those who have fantastic ideas and help out those who need some inspiration, so launched a competition asking for your best gluten free breakfast ideas. The winners have been announced and we are pleased to share their recipes with you below.
Want to share a recipe with us? Please contact us or contact our Helpline on 0333 332 2033.
*Please check your Food and Drink Directory for suitable products.
Print page
Add to My Scrapbook