Your location: Home
Burns Night
Burns Night
On 25 January each year people all over the country celebrate the life and poetry of Scottish poet, Robert Burns.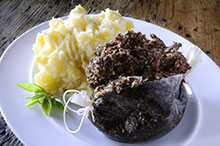 Burns Night or Robert Burns Day traditionally involves a Burns supper along with some dancing, so why not organise your own gluten free Burns Night celebration? Traditionally the meal will start with a soup course, then the main event, the haggis, and the option of a whisky or two.
Scotch broth
Scotch broth traditionally contains pearl barley but there's no reason why you can't substitute this with lentils or split peas. Try a traditional recipe and substitute the barley.
Haggis
Haggis is a sort of sausage traditionally made using sheep's liver, lungs, heart as well as seasonings and oatmeal. Conventional oats can be cross contaminated with gluten so many haggis products are not suitable for including on a gluten free diet. If you do buy a haggis or make your own, we recommend that the oatmeal used is gluten free. We know of a few companies who sell gluten free haggis by mail order. Contact us at foodanddrink@coeliac.org.uk for information on these.
Haggis alternatives
If you are not keen on haggis or can't find a gluten free alternative, you could try using sausages instead. There are lots of sausages that do not contain gluten and are available in most supermarkets. Check our Food and Drink Information for sausages to buy. Mashed potato and mashed swede are traditional accompaniments to haggis.
Cranachan
Cranachan is a traditional Scottish dessert made from cream, oats, raspberries and whisky. To make your own, follow our recipe below.
Whisky
Whisky can be included in a gluten free diet. Even when a gluten containing cereal is used as an ingredient, all spirit drinks go through a distillation process when manufactured that removes any traces of gluten. The end product of the distillation is gluten free. Therefore all spirit drinks can be included on a gluten free diet. If whisky isn't your thing, cider, wine, sherry, spirits, port and liqueurs are also ok to include in your gluten free diet.
We are always on the lookout for more great recipes to add, so please feel free to submit your favourite Burns Night gluten free recipes.
Print page
Add to My Scrapbook