Your location: Home
Cauliflower
Cauliflower
Cauliflowers, for some, may just be reserved for being smothered in cheese and served with a roast. Whilst that is a great way to serve them, they have so much more potential that just that.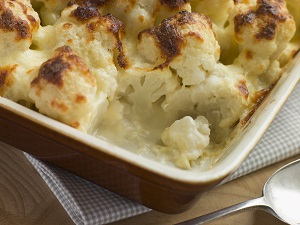 Cauliflowers are part of the brassica family, which also included turnip, cabbage, broccoli. They can come in all different shapes and sizes and even colours with purple, yellow and green varieties are available.
To prepare, remove the outer layers and cut off the base and then break off or chop the florets. It can be eaten raw or cooked, be careful not to overcook the cauliflower as it will be pungent and the texture will be overly soft. To cook, it is best steamed and this will take 5-7 minutes for florets. It can be roasted, added to stews, used as a vegetarian replacement to steak and be cooked whole.
Additionally, cauliflower can be whizzed up and turned into cauliflower rice, a great alternative to rice or pasta if you are looking for a lower calorie option.
Remove leaves and stalk
Roughly chop the cauliflower
Place in a food processor, blitz until fine
Now either microwave for three minutes, fry for six

miuntes

or roast for 10 minutes in a hot oven
Find out more ways below on how to use this in season vegetable!
Print page
Add to My Scrapbook