Your location: Home
Dinner parties
Dinner parties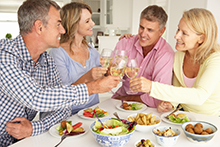 Have you planned a dinner party and just found out that one of your guests has coeliac disease? Don't panic! There are some simple ways you can adjust the food you're cooking to suit someone who is on a gluten free diet.
Coeliac disease is an autoimmune disease caused by gluten, which is found in wheat, rye and barley. Some people also need to avoid oats.
If someone with coeliac disease eats gluten, it can cause symptoms such as abdominal pain, bloating, diarrhoea, nausea and vomiting. In the long term, eating gluten can cause conditions such as anaemia, osteoporosis and certain types of cancer.
The only treatment is a life-long gluten-free diet.
The gluten free diet
The main foods which contain gluten are foods such as bread, pasta, pastry, cakes, biscuits, crackers and pizzas. Processed foods such as ready meals, sauces, stock cubes and sausages sometimes contain gluten as well.
There are plenty of naturally gluten free foods though, such as meat, fish, fruit and vegetables, rice, potatoes and lentils. And there are specially made gluten free foods such as gluten free pasta and pizza bases.
Find out more about the gluten free diet.
Tips for developing a gluten free dinner party menu
Think about what you would like to cook. A lot of the time a few simple changes can make a dish suitable for a gluten free diet. You need to check ingredients such as stock cubes and seasonings, prebought sauces and processed vegetable products such as frozen chips. Reading the labels will tell you whether they are safe for your guest.
Some meals which can easily be made gluten free are:

chilli con carne
shepherds pie
curries
salads – without croutons
steak or gammon and chips – make sure you don't coat meat with flour
risotto

Have a look in the Free From section of your supermarket for foods such as gluten free pasta, crackers and bread that you may want to serve with your meal. There will usually be a wide range of cakes and biscuits, as well as ingredients such as gluten free flour and bread mixes.
Speak to your guest about your menu and whether it is suitable or not. Your guest will feel much happier if they have been asked about anything you are not sure of.
If you are unsure about cooking everything yourself, why not ask all your guests to bring one or two dishes.
If in doubt, call our Helpline on 0333 332 2033. We can give you advice on ingredients you can use and tips on reading labels.
When cooking your meals, it is important to keep your gluten-free ingredients separate from other ingredients. Find out how to avoid cross contamination.
There are plenty of both alcoholic and soft drinks that don't contain gluten:

cider, wine, sherry, spirits, port and liqueurs are all suitable for people with coeliac disease
beer, lagers, stouts and ales contain varying amounts of gluten and are therefore not safe for people with coeliac disease. You can buy specially made gluten free beers and lagers and these are usually found in Free From section of the supermarket and some health food stores
fruit juice, flavoured waters, cordials and fizzy drinks are ok to have. Barley squashes are not suitable.
Last of all, enjoy your dinner party and if you are worried about any of the ingredients do check with your guest. They will often know straight away about different makes of ingredients and be able to help you if you are unsure.
Print page
Add to My Scrapbook