Your location: Home
Gluten free budget meal plan
Gluten free budget meal plan
A plan to help you make the most of your food shop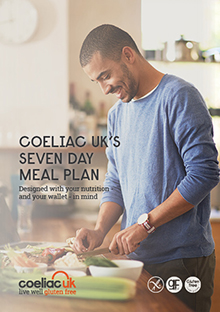 Living gluten free means changing the way you shop, cook and eat out. It's important to eat a healthy balanced diet to provide all the energy and nutrients your body needs. We know it isn't always easy though, especially if you're new to the gluten free diet.
And with gluten free substitute products costing on average 3-4 times more than standard gluten containing equivalents, budgets can be a concern as well. So this seven day plan has been developed to provide the recommended daily amounts of fat, carbs, protein and fibre, as well as your five a day without breaking the bank.
Download your plan today, and don't forget to share your comments and photos on our members' gallery.
Print page
Add to My Scrapbook