Your location: Home
January - Oranges
January - Oranges
Oranges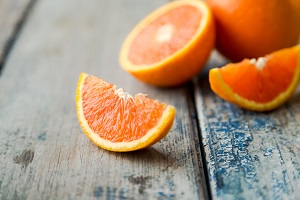 Oranges belong to the citrus family and are actually a type of berry!
General info:
Oranges are used in a wide variety of juices but can also be found in savoury dishes and desserts.
Citrus fruits are very difficult to grow in Britain but if you want to have a go yourself, you can grow them in pots outside during summer and bring them in during winter.
There are many types of oranges, Valencia, Navel and the more colourful blood variety.


Nutritional info:
Oranges are a fantastic source of Vitamin C and folate which are important for maintaining healthy body tissues and blood formation.
Try to include a variety of fruit and veg in your 5 a day to get a wide range of nutritional benefits like maintain a healthy weight, blood pressure and gut.
1 medium orange = 1 of your 5 a day
How to prepare:
When buying oranges, the firmer, weightier ones tend to be juicier.
Juicing – roll the orange on a flat surface before juicing, or heat in the microwave for 20 seconds.
Zest – wash the skin thoroughly before grating.
Most oranges will keep at room temperature for a few weeks.
Recipes
We pulled together some of our delicious recipes using oranges for you to try below. Alternatively search our recipe collection for more inspiring recipes.
Print page
Add to My Scrapbook