Your location: Home
Mother's Day
Mother's Day
Mother's Day celebrates motherhood and this year is on Sunday 11 March.
Make Mother's day special by treating your mum to these delicious Lime and Blueberry Possets with a Shortbread Biscuit. The flavours are rich and fruity which makes a perfect addition to a spring afternoon tea treat.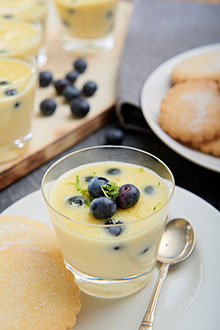 Ingredients
125g (4½oz) plain gluten free flour*
½ tsp xanthan gum
50g (1½oz) cornflour*
100g (3½oz) butter
50g (2½oz) caster sugar, plus a little extra for dusting
Posset:
500ml (18fl oz) double cream
150g (5½oz) caster sugar
3 limes, juiced and zested
100g (3½oz) blueberries
Method
1. Preheat the oven to 160°C/325°F/Gas Mark 3. Lightly grease a baking tray
2. Mix the flour, xanthan gum, and cornflour together in a bowl
3. Add the butter and sugar, and rub together with your fingertips. Knead the mixture until it makes a smooth dough
4. Roll out to be about 4mm thick and cut into small disks. Bake for 25-30 minutes or until they are a very pale golden brown colour.
5. Remove from the oven, sprinkle with castor sugar, and leave to cool
6. Put the cream, sugar, and lime zest into a heavy based pan and cook over a slow heat until the sugar is dissolved. This takes about 3-4 minutes
7. Whisk in the lime juice; this will make the cream thicken
8. Share the blueberries between your pots, then divide the cream between the pots. Leave to cool and then place in the fridge until you are ready to serve.
Whether it's breakfast in bed, a Sunday roast or something deliciously sweet; make your mum feel special this Mother's Day with these great recipes below. Don't forget to look here for many more recipes!
Print page
Add to My Scrapbook