Your location: Home
Selection of salads
Selection of salads
Salads are healthy, versatile and offer endless possibilities and combinations. Our in house foodies have come up with their most nutritious, delicious and yummy salads as we are nearing summer and swapping the soup for something lighter at lunch.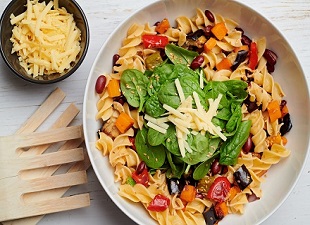 Lorna's opted for her Puy Lentil Salad. "Puy lentils are great in a salad and this recipe is tasty, versatile and nutritious. The lentils provide a great source of iron and fibre and the cheese is a great source of calcium. There are lots of swaps and additions you can make. You could use cherry tomatoes instead of sundried tomatoes, add more colour by frying a red or yellow pepper with the onion, include some chickpeas or switch the halloumi to feta cheese."
Naomi has chosen a light and refreshing Quinoa, Edamame and Watermelon Salad."This recipe is both gluten free and suitable for vegetarians. It contains 2 out of your 5 portions of fruit and vegetables a day and is a good source of both protein and fibre. The watermelon and lime make this salad bust with freshness and flavour!"
Nicola has shared her household favourite, Camargue Red Rice Salad. "A delicious nutritious salad that works well as a light but filling lunch or as a side dish. The rice is a fantastic source of fibre and the egg a great source of protein. A dish that is both gluten free and suitable for vegetarians and can easily be adapted for a vegan diet by removing the egg."
Louise has picked out the Roasted Vegetable & Pasta Salad, from the budget meal plan. "This is a colourful gluten free pasta salad that is a great way to fill you up at lunchtime and easy to make for lunchboxes. Use woody herbs, like Rosemary and Thyme, to roast with the vegetables to boost the flavour. Add some creme fraiche to make this pasta dish creamy. Download the budget meal plan to help keep costs down on a gluten free diet."
Sam has chosen his favourite summertime salad, Fennel & Apple. "This is a very light and tasty salad, it's a great side when having a BBQ. The croutons are great if you are looking for a more filling lunch, try our herby croutons for more flavour. The salad can be easily made into a slaw by remove the croutons, spinach and watercress leaves and pickled cabbage and replace with raw cabbage and mayonnaise."
Print page
Add to My Scrapbook