Your location: Home
Packed lunches
Packed lunches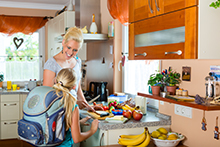 Whether it's back to school or you fancy a change for work, why not try some new lunch ideas.
Add these fillings to your favourite gluten free bread, top on toasted bread, crispbread, rice cakes or crackers, or fill a gluten free roll or pitta bread:
Tuna, sweetcorn and chilli – Mix together half a tin of tuna, a tablespoon of sweetcorn and a teaspoon of mayonnaise*. Add a pinch of chilli powder for an extra kick.
Red pesto chicken – Take one small cooked chicken breast and chop into pieces. Mix with two teaspoons of red pesto*.
Pepper and avocado – Mash half an avocado and mix with half a deseeded, chopped red pepper and a teaspoon of mayonnaise*. Add to your sandwich with fresh salad.
Cream cheese and pesto – Spread your bread or roll with a thin layer of green pesto* and top with soft cheese.
Brie and grape – Top the bread with sliced brie and halved green seedless grapes.
Beef and watercress – Fill a roll or sandwich with leftover sliced beef and a handful of watercress and perhaps a bit of horseradish sauce*.
Chocolate banana – Spread with chocolate spread* and top with sliced banana.
Coronation chicken – Take one small cooked chicken breast and chop into pieces. Mix with two teaspoons of mayonnaise*, curry powder* to taste and two chopped dried apricots or golden raisins/sultanas.
Top tip: If you don't want your sandwich to go soggy, add the filling just before lunch, or use lettuce leaves to protect the bread.
Savoury snack ideas
Pack a small pot of houmous* with carrot batons or celery sticks and mini gluten free breadsticks*.
Cold gluten free pizza* can be a great way to use up leftovers for packed lunches the next day.
Quick pasta salad – Mix together a tablespoon of mixed beans with 4 tablespoons of cooked gluten free pasta*, chopped tomatoes, fresh mozzarella or feta cheese and herbs. Stir in a tablespoon of your favourite dressing* and serve with salad leaves.
Sweet snack ideas
Fruit, nut and seed mix – Make your own mix with any combination of dried fruit and nuts, for example; raisins, dried apricots, dried cranberries, dried coconut, pumpkin seeds, linseed, pecans and walnuts.
Fromage frais, crème fraiche or natural yogurt can be used as a sweet dip for eating with sliced apple, pear and strawberries.
Fruit is the ultimate fast food – apples, kiwi fruit, bananas, satsumas, grapes and berries are healthy, gluten free snacks.
*Check the Food and Drink Guide for suitable products
Print page
Add to My Scrapbook