Your location: Home
St. David's Day
St. David's Day
The feast of Saint David, the patron saint of Wales is celebrated on 1 March each year.
Why not try our recipe for Welsh cakes, being gluten free doesn't mean you have to miss out!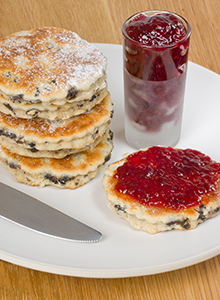 Welsh Cakes
This recipe should make about 24 Welsh cakes.
Ingredients
350g (12oz) gluten free flour *
1 rounded teaspoon baking powder*
150g (6oz) margarine or butter
Pinch salt
Pinch nutmeg
100g (4oz) caster sugar
100g (4oz) currants
2 eggs, beaten
2 teaspoon corn oil
1 teaspoon lemon juice
Milk if needed
Oil for the griddle
Sugar for dusting


Method
1. Heat the griddle, or if you don't have one you can use a heavy based frying pan instead
2. Sift the flour and baking powder into a bowl
3. Rub the margarine into the flour and add the nutmeg, sugar and currants
4. Beat the eggs and add to the mixture, then add the corn oil and lemon juice. If the mixture is a bit dry, add a little milk but do not make the mixture too moist
5. Roll out on a floured surface so it is about half a centimetre thick and cut out into rounds using a cutter
6. Brush a small amount of oil or lard onto the griddle and bake for roughly three minutes each side until brown
7. Sprinkle with sugar and enjoy with a nice cup of tea.
*Check your Food and Drink Guide for suitable products
Have a look below at our recipes inspired by St.David's day. Find hundreds more recipes here.
Print page
Add to My Scrapbook