Your location: Home
People and Patients - Summer 2015
People and Patients - Summer 2015
Nick Trott, Gastroenterology and Nutrition Support Dietitian from Royal Hallamshire Hospital, Sheffield shares his 'Five top tips in reviewing people with coeliac disease'
Dietetic top 5 tips for good care: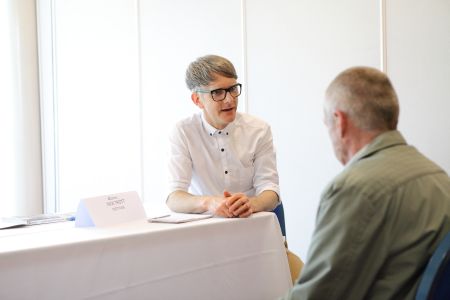 Many different aspects relating to the most optimal and effective way of treating our patients who present with coeliac disease are still under question. These include how to increase recognition? What is the most effective protocol for diagnosis? How best to educate and support the newly diagnosed? (Group education is increasingly popular1). And what is the preferred option for follow up that can be consistently delivered? Below are a few pragmatic thoughts, from a dietetic perspective, that have emerged from working in a specialist coeliac clinic. These of course are in no way definitive and I will be very interested to hear what both my Dietetic and Gastroenterology colleagues feel are their 'Top Tips' for care in the coeliac population.
1) Establish and maintain good professional links with gastroenterology
Of course one of the most important aspects in delivering successful care to patients with coeliac disease is effective communication between all the stakeholders involved. Links between the gastroenterologists and dietitian are particularly essential in the development of both referral and treatment protocols that facilitate the prompt adoption of the gluten free diet. The need for effective multi-disciplinary working is supported by the literature, a survey from 2006 assessed the views of patients with coeliac disease and indicated that a dietetic led clinic with access to a gastroenterologist who has an interest in their condition was the service which they had a preference for2.
2) Ask for further tests and clarify diagnoses
The professional relationship between the primary referrer and the dietitian is equally important in so called 'grey cases' where there maybe equivocal test results. Of course all tests need to be interpreted by a gastroenterologist to determine the diagnosis and duodenal biopsy remains the gold standard. However in our clinic any patient who presents as histologically positive but seronegative for tissue transglutaminase and/or endomysial antibody we will, if necessary, request further corroborative HLA genotyping, additional immunoglobulin levels or referral to a gastroenterologist with a specialist interest in coeliac disease3.
3) Consider group coeliac clinics
Already many hospital dietetic departments are adopting or considering this approach as they are cost effective with the potential added benefit of providing peer support 4-5. A recent evaluation of our coeliac group clinics (CGC) showed patients expectations of CGC were met 98% of the time, 98% of patients felt they had an improved understanding of coeliac disease and had acquired new knowledge. 100% felt they would recommend a CGC to others with newly diagnosed CD.
4) Patients who remain serologically positive and / or symptomatic – consider a super sensitive approach
Patients may present at follow up with an ongoing positive serology and a detailed diet history is crucial in assessing overall adherence. However once this has been established and discussed with the lead clinician, a trial of a super sensitive approach can be helpful in some cases. Pragmatically this entails the additional avoidance of all forms of barley malt (including malt vinegar and supermarket own brand rice and corn based cereals), codex wheat starch and gluten free oats. Our anecdotal experience is that patients following this diet require additional dietetic support and review. If there is clinical improvement it is important to consider reintroducing gluten free oats, malt and codex wheat starch to serological and symptomatic tolerance.
5) Patients who have intestinal symptoms with normal serology– consider functional bowel disorder (FBD)
Many patients report continuing to suffer with troublesome abdominal pain, distension and either/or constipation and diarrhoea. Again after liaising with the lead gastroenterologist to exclude alternative diagnoses, a trial of dietary modification may help to reduce and manage functional symptoms. These may range from simple healthy eating advice and regular meals to the Low FODMAP diet which, by modifying medium and short chain carbohydrates has been established as a clinically effective treatment for FBD6,7. The Low FODMAP diet involves two phases; a strict eight week restriction and then individualised liberalisation, ideally it should always be delivered by a dietitian with experience of the approach.
References
1. Glutafin 2014. Survey of coeliac clinics in 133 hospitals in the UK. 2014.
2. Hogberg L, Grodzinsky E, Stenhammar L. Better dietary compliance in patients with coeliac disease diagnosed in early childhood. Scand J Gastroenterol 2003; 38: 751–4.
3. Mooney PD, Hadjivassiliou M Sanders DS. Coelaic disease. BMJ 2014;348:g1561.
4. Trott N, Kurien,M, Sanders D. Service Evaluation of Group Clinics for Patients with Newly Diagnosed Coeliac Disease. Complete Nutrition Vol.15 No.2 May 2015.
5. Oldale C. Managing increased diagnosis of coeliac disease through group education. NHDmag.com 2013;81:12-13.
6. Therapy Halmos E.P. et al (2014) 2014;146:67–75. A Diet Low in FODMAPs Reduces Symptoms of Irritable Bowel Syndrome.
7. Gibson P.R. and Shepherd SJ. (2010);25(2):252-8. Evidence-based dietary management of functional gastrointestinal symptoms: The FODMAP approach. Journal of Gastroenterology & Hepatology.
Print page
Add to My Scrapbook