Your location: Home
Research - 2015
Research - 2015
Transition from paediatric to adult services: an interpretative phenomenological
Analysis of the experiences of young people with coeliac disease
By Natalie Craddock, Dr Ruth Howard and Dr Gary Law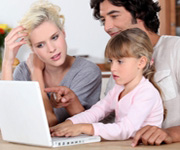 Introduction
Coeliac disease is an incurable, chronic condition and is characterized by an autoimmune response to gluten, a protein found in wheat, barley and rye. The only current treatment is a life-long gluten-free diet (GFD; NICE, 2009). The British Society of Gastroenterology (BSG) recommends that patients with coeliac disease should be reviewed annually and receive support from a dietitian, as well as access to a gastroenterologist if necessary (Ludvigsson et al., 2014). As young people with coeliac disease progress into adulthood, it is important that their healthcare is continuous as it is transferred to adult services. To date, the experiences of young people with coeliac disease transitioning from paediatric to adult services remain unexplored. To address this gap in knowledge, the present study interviewed young people with coeliac disease (16 to 19 years) and parents, from across the UK.
Method
Seven young people and six parents took part. Data was analysed using the Interpretative Phenomenological Analysis (IPA) approach, which allows for an in-depth exploration of individuals' experiences (Smith, Flowers & Larkin, 2009).
Findings
Three super-ordinate themes were identified for each subgroup, which overlapped extensively. These included: (i) 'Absence of discussion and abandonment', (ii) 'Understanding my coeliac disease and me' and (iii) 'Responsibility is an evolving process'. The majority of the young people and parents spoke of an absence of discussion and clear information about the transition, as well as a lack of involvement in the decision-making processes. They felt abandoned and apprehensive about the future of their care. Furthermore, they talked about how important it was that clinicians educated the young people about their coeliac disease and addressed their feelings about their condition in a way that was appropriate for their stage of development. Poor knowledge of their condition and emotional struggles including social embarrassment, particularly in relation to the gluten-free diet, often created high levels of anxiety for the young people, and impacted on the way they managed their diet. Five of the seven young people had been transferred to their GP and the young people and parents were concerned about this; they perceived GPs to lack the expertise to treat coeliac disease effectively. How much responsibility young people took on in terms of managing their condition and engaging with adult services varied and the involvement of parents in their child's coeliac disease did not necessarily end with transfer to adult services.
Implications and recommendations
Previous research has shown that a poor experience of transition can lead to young people to disengage with services (Lewis & Noyes, 2013). As good dietary self-management is vital for the continued well-being of people with coeliac disease, the transition to adult services should ensure continuity of care and include clear communication between all relevant parties to avoid feelings of abandonment and anxiety. Clinicians need to be aware of the young people's level of knowledge about coeliac disease, as well as any psychological difficulties, especially at the point of transition. Where young people are being transferred to the care of the GP, it is recommended that patients are made aware that they can access dietetic and/or gastroenterology services should future problems arise, as well as the information and services provided by charitable organisations aimed at supporting people with coeliac disease. Young people do not necessarily reach the optimum stage for taking on responsibility for their coeliac disease at the point where a service wishes to transfer them. Therefore, adult providers should not necessarily expect their young adult patients to be independent in all aspects of their coeliac disease. Further research on transitional care is required, as it is currently unclear what key elements are necessary for a "successful" transition, and what interventions need to be implemented to achieve a positive clinical outcome.
References
Ludvigsson JF, Bai JC, Biagi F et al (2014) Diagnosis and management of adult coeliac disease: guidelines from the British Society of Gastroenterology. Gut Published Online First: June 10 2014 doi:10.1136/gutjnl-2013-306578
Lewis, S. A., & Noyes, J. (2013). Effective process or dangerous precipice: qualitative comparative embedded case study with young people with epilepsy and their parents during transition from children's to adult services. BMC pediatrics, 13(1), 169. DOI: 10.1186/1471-2431-13-169
National Institute for Health and Care Excellence (NICE). (2009). Coeliac Disease: Recognition and assessment of coeliac disease, CG86. London: National Institute for Health and Care Excellence.
Smith, J. A., Flowers, P., & Larkin, M. (2009). Interpretative phenomenological analysis: Theory, method and research. Sage.
Funding opportunities
We fund research that underpins and integrates with our business plan activities whilst also considering - where possible, funding - the wider long term research agenda in understanding coeliac disease and dermatitis herpetiformis.
Within our Research Strategy, 2013-2016, we have a number of different funding opportunities available. We plan to fund research through research projects, fellowships and sponsored dissertations.
Our latest research call is now open, please visit our website to find out more about our current funding opportunities including;
Research project grants
Clinical Research Training Fellowships
Update on Coeliac UK Research Conference videos 2015

In the Awareness week edition of Professional eXG, we highlighted the videos that were available to watch online of our Research Conference 2015, entitled 'Coeliac disease: prevention and therapeutic advances.' The conference featured speakers from around the world who shared the latest developments in prevention and therapeutic strategies for coeliac disease.
Our Helpline receives a number of calls from people with coeliac disease enquiring about enzyme treatments. A further video from the conference of Professor Frits Koning's presentation is now available, which invalidates the use of many enzyme preparations available in health food shops and discusses other options that could become future therapies.
Print page
Add to My Scrapbook