Post lockdown venue directory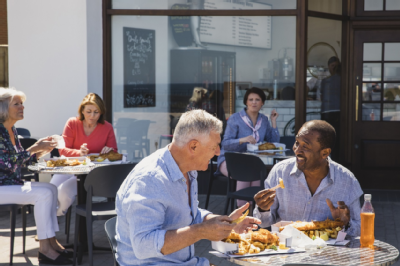 Food businesses across the UK are once again opening their doors, including restaurants, cafes and bars.
We've contacted all of our GF Accredited partners to ensure that you'll still be able to find gluten free food on the menu, and have helped each business to carry out a Post Lockdown & Kitchen Safety Checklist so that gluten free food safety stays front of mind whilst staff adapt to a new working environment.
We've compiled a handy directory of GF Accredited venues and what they are offering, which you can use to plan your next meal out. We'll update this list weekly, so bookmark this page and check back regularly for new listings.
We strongly recommend booking in advance and preparing for cashless payment when planning your visit.
For specific advice relating to your country, please follow the links below:
For advice on how food businesses are adapting to reduce the spread of coronavirus, please visit www.food.gov.uk/business-guidance/adapting-restaurants-and-food-businesses-for-takeaway-and-food-delivery-during-covid-19
We are re-opening Carluccio's doors from 30th July and looking forward to welcoming back the Coeliac UK community to enjoy our dedicated gluten-free menu. Over the past few months, we have been working with Coeliac UK to realign with their gluten free safety standards. We are delighted to be continuing to operate under Coeliac UK's GF accreditation programme.
GF Accredited Venue:
Gluten free availability:
Details:

245 Lewis' Diner

Last updated: 17/07/2020

✔ Gluten free available

Open for orders for collection takeaway.

Breakfast available 9am till 2pm and their evening menu of fish & chips and other delicious options from 12pm onwards

To see their menu please visit www.facebook.com/245lewisdiner. Order by calling 01633 357100 or order in store

Ardiciocca

Last updated: 17/07/2020

✔ Gluten free available

Takeaway

With a fully gluten free menu you can order for takeaway delivery straight to your door

Visit www.ardiciocca.com/delivery-service to see if you can get delivery in your area

Bizzie Lizzie's Fish and Chips

Last updated: 07/08/2020

✔ Gluten free available - only at Swadford Site

Dine in/takeaway

Swadford Street Restaurant & Takeaway is now open and selling gluten free fish and chips 7 days a week, 12pm - 8pm. Available for dine in services as well as walk in ordering and collection

To see the menu before you visit, please click here

British Motor Museum

Last updated: 07/08/2020

✔ Gluten free available

Dine in - table service, pay at till

Lots of delicious gluten free options available, just order and pay at the till and your food will be delivered to your table. All tickets must be booked in advance online

Open every day during August.

All tickets must be booked in advance online

Browns

Last updated: 03/07/2020

✔ Gluten free available - reduced gluten free menu

Dine in

Venues will be re-opening on the 4th July with restricted menus with cashless payment facilities

Please check their website and book ahead:

Brunning and Price

Last updated: 24/08/2020

✔ Gluten free available - call ahead to check if your restaurant is offering a gluten free menu

Dine in/click and collect

Pubs are beginning to reopen for dine in services. However, they are currently running a reduced menu and not all venues may offer gluten free options. Please call the venue ahead of visiting to check if gluten free options are available.

Catch - Ashford

Last updated: 17/07/2020

✔ Gluten free available

Click and collect

Order online or phone 01233 662222 for click & collect service

Accepting card payments only

Mon-Fri 16.00 - 20.00 and Sat 12.00 - 20.00

You can now order via their website

Carluccio's

Last updated: 17/07/2020

✔ Gluten free available

Carluccio's will be reopening from the 30th July with a gluten free menu

Please check their website for more details: www.carluccios.com

Click here to see their gluten free menu

Chipotle

Last updated: 24/08/2020

✔ Gluten free available

Use their app or website for Click & Collect takeaway orders or order via Deliveroo for delivery

Check open sites here

Chiquito

Last updated: 07/08/2020

X Gluten free unavailable

Dine in/click and collect/delivery

Venues are beginning to open with some sites offering a selection of services from dine in, click and collect and delivery. However they are currently unable to offer gluten free at this time

Visit www.chiquito.co.uk

Clean Bean

Last updated: 07/08/2020

✔ Gluten free available

Dine in/takeaway/click and collect/ delivery

Visit Clean Bean for a fully gluten free menu

Clean Bean use their own drivers for deliveries. Deliveries only available to those within five miles of postcode SR7 7EU

For takeaway or click & collect, order via www.goodeats.io/cbc

Côte Restaurants

Last updated: 24/08/2020

✔ Gluten free available

Cote Restaurants have now opened over 50 restaurants across the UK with more to come

The Creative Kitchen

Last updated: 03/07/2020

✔ Gluten free available

Delivery

The Creative Kitchen has been supporting the gluten free community throughout lockdown and continues to deliver gluten free meals and fresh bakes through their online ordering service

Online ordering service available to following areas; Codnor, Loscoe, Heanor, Ripley, Waingroves, Denby, Belper, Heage, Swanick, Riddings Somercotes and Marehay

Debaere Limited

Last updated: 03/07/2020

✔ Gluten free available

Takeaway/order online

You can now purchase gluten free cakes from the Debaere's kiosk in St Ann's Shopping Centre in Harrow

You can also order gluten free cakes online from Debaere's website for home delivery in the areas Ealing, Hammersmith, Fulham and Chiswick

Contact Debaere to order one of their cake boxes, including a fully gluten free option

Dakhin

✔ Gluten free available

Dine in/takeaway (order over phone, delivery through UBER & Deliveroo)

Open from 15 July, offering their fully gluten free menu, you can dine in or order takeaway by calling 0141 553 2585

Visit www.dakhin.com

Dominos Pizza

Last updated: 30/09/20

X Gluten free unavailable

Dominos still have operational restrictions in place and this means that gluten free pizzas are not available from their stores. We are in regular contact with Dominos and will be sure to let you know when gluten free pizzas are back on the menu

Visit dominos.co.uk or check back here for further updates

Fish and Chips @ Weston Grove

Last updated: 17/07/2020

✔ Gluten free available

Collection and delivery

Visit their website to see their menu and to order gluten free options online at fishandchipsatwestongrove.co.uk

Frankie & Benny's

Last updated: 07/08/2020

✔ Gluten free available - limited options, please call ahead

Venues are beginning to open with some sites offering a selection of services from Dine-in, Click & Collect and Delivery

To see list of venues and when they open, please visit /www.frankieandbennys.com/covid-19-faq

Frites Harbourside Fish & Chips (The Barbican)

Last updated: 17/07/2020

✔ Gluten free available on Mondays

Click and collect

Order via their website here

Hanburys Fish Restaurant

Last updated: 17/07/2020

✔ Gluten free available

Click and collect

Hanbury's Fish Restaurant are offering gluten free fish and chips, every Friday and Saturday, via their click and collect service only

View their click and collect menu here

The Hideaway Café

Last updated: 17/07/2020

✔ Gluten free available

Takeaway/collection point (one-way system to pick up food)

Offering a takeaway system where people can collect food from a service point. Customers will be unable to use the indoor facilities but are more than welcome to eat at the outdoor tables

The Jones Family Kitchen

Last updated: 07/08/2020

✔ Gluten free available

Dine in/takeaway/delivery

The Jones Family Kitchen, Belgravia is open for takeaway collections and now dine in!

Order online here or reserve your table at jonesfamilykitchen.co.uk

Kerry's Bakehouse & Eatery

✔ Gluten free available

Dine in

Open for dine in with a reduced menu and food available for collection

Lola's Cupcakes

Last updated: 03/07/2020

✔ Gluten free available

Delivery/click and collect

You can order gluten free cakes and brownies from Lola's Cupcakes website for home delivery or click and collect from their selected stores or collection points

See website for details: www.lolascupcakes.co.uk

Low's Traditional Fish and Chips

Last updated: 17/07/2020

✔ Gluten free available

Takeaway and delivery

Order your food at orders.lowstraditional.com/takeaway

Miller and Carter

Last updated: 03/07/2020

✔ Gluten free available - reduced gluten free menu

Dine in

Venues will be re-opening on the 4th July with restricted menus with cashless payment facilities

Please check their website and book ahead:

Millers Fish & Chips

Last updated: 17/07/2020

✔ Gluten free available

Click and collect

Gluten free fish & chips every Thursday

Order online or via their new app by visiting https://www.millershaxby.com/

The collection point is located in heir rear car park - please check the estimated wait times at the top or their menu before ordering

Niche Food & Drink

Last updated: 03/07/2020

✔ Gluten free available

Delivery/click and collect available from 1 August 2020

Please check website for new Eat-In box delivery service and click and collect service:

Olley's Fish Experience

Last updated: 17/07/2020

✔ Gluten free available

Takeaway

Order by calling 02086 718259 and collect your food from their site. For menu, please visit their website www.olleys.info/Menu

Paignton Pier Chippy

Last updated: 17/07/2020

✔ Gluten free available

Click and collect

Open for click and collect takeaway 7 days a week, 12-8pm

Access to promenade by car is now available for all

Papa's Fish and Chips

Last updated: 17/07/2020

✔ Gluten free available

Click and collect

Click and collect orders before 6pm can be collected from their clearly designated 'Collection Point'

Click and collect orders after 6pm will be delivered to your vehicle 'Contact Free' in the Promenade Parking

Order your food for collection here orderonline.papasfishandchips.com/cleethorpes/welcome

Pho

Last updated: 20/07/2020

✔ Gluten free available

Delivery/click and collect at selected restaurants

Pho restaurants (accredited by Coeliac UK) are opening back up across the country. From London to Leeds, Brighton to Bristol and everywhere in between, you can get your Pho fix this summer.

For a full schedule of the Pho's reopening, visit www.phocafe.co.uk

Keep checking their website for further updates on their restaurant openings

Pizza Express

Last updated: 03/07/2020

✔ Gluten free available

Takeaway/click and collect/dine in at selected restaurants

Phased opening starting with takeaway from 17 June

Click here to visit their website and find 13 takeaway sites for online click and collect ordering

Pizza Hut

Last updated: 09/07/2020

✔ Gluten free available

Pizza Hut Restaurants has started to welcome its guests back for Dine In with over 100 Huts opening by 13 July and new measures in place to ensure guest and team member safety. The Restaurant group are also testing exciting innovations such as order and pay from your mobile phone and 'Bluffet' an unlimited pizza lunch brought to your table!




Huts open for dine in from 6th July:

Amesbury, Basildon, Blackburn, Cambridge Retail Park, Castleford, Chichester, Colchester Turner Rise, Crawley Leisure Park, Doncaster Carr, Durham, Hayes Retail Park, Hull - Kingswood, Ipswich Copdock, Lincoln St Marks, Liverpool One, Liverpool - Speke, London - Beckton Triangle, London - Greenwich Pennisula, London - Merton, London - Surrey Quays, Manchester Fountain St, Manchester - Trafford Centre, Manchester - Trafford Retail Park, Middlesbrough, Newcastle - The Gate, Norwich Longwater, Nottingham Castle Meadow, Oldham, Plymouth Barbican, Reading Oracle, Rochdale, Romford Retail Park, Skegness, Stoke Festival Leisure Park, Stratford-upon-Avon, Swindon Shaw Ridge, Telford, Warrington Winwick Rd, Wolverhampton Bentley Bridge, York Pavement.

If your Hut isn't on the list yet - don't worry! Most of their Huts are open for Contactless Collection orders while they get ready to open for dine-in

Visit

Prezzo

Last updated: 09/07/2020

✔ Gluten free available

Dine in/Delivery/Click and Collect available for Dine At Home ordering from reopened venues

Prezzo restaurants are starting to reopen and they have some new menu options available. When dining in you can now order digitally from a smartphone or tablet using the QR code displayed on each table. Of course customers can still order with one of the Prezzo team if they'd prefer

The restaurants are now cashless so customers can settle their bill using Apple Pay or Android Pay, contactless or Chip and PIN





View menu here

Find venues offering Dine at Home here

See the full list of venues opening this July and their reopening dates here

Red Lion - Badlesmere

Last updated: 17/07/2020

✔ Gluten free available

Takeaway via collection only

Open for a takeaway services at present for contact free service from 5.00pm to 8.00pm Monday to Saturday

To order please call 01233 740309

Pre-orders and card payment by phone only.

Fully gluten free menu available here

On collection of your order, park near the street side door and ring the door bell on the table. Please wait in your car and your food will be brought out to you

Rockfish

Last updated: 17/07/2020

✔ Gluten free available

Dine in

Rockfish venues have reopened. You can see what safety measures they have put in place here

Menu options may be restricted at this time so please call ahead to ensure gluten free options are available on 01752 255974 for their Plymouth site

You can also book your spot over on their website www.therockfish.co.uk/book-online-router

More venues expected to reopen at the end of July

Sfoglia Bologna

Last updated: 17/07/2020

✔ Gluten free available

Dine in

Dine in at Sfoglia Bologna. Now open, all week from 12am to midnight with lots of wonderful gluten free options available

The Chesterford Group - Fish'n'Chick'n

Last updated: 03/07/2020

✔ Gluten free available (Selected stores only and stores may offer gluten free on different days)

Takeaway/click and collect

Enjoy take away and click and collect services from Churchill's, Fish'n'Chick'n and Bankers fish and chip shops

See venue websites for more detail:

bankersfishandchips.co.uk/bankers-express-hove-2-2/

Gluten free fish and chip availability may differ for each site. Please check with the venue directly before ordering

The Real Food Café

Last updated: 17/07/2020

✔ Gluten free available

Click and collect/takeaway

Open from the 23 July! Gluten Free Fish & Chips available as well as other gluten free options like soup and salted caramel chocolate brownies. See what they have to offer on their menu, now with Click & Collect ordering available

Click here to view the menu.

Visit www.therealfoodcafe.com

Wadworth & Co Ltd

Last updated: 24/08/2020

✔ Gluten free available - reduced menu

Wadworth pubs are starting to open!

Gluten free options are available at each pub but please call ahead to check availability and please state gluten free requirements if using their app at point of order

To see which pubs have opened or are opening soon, please visit www.wadworth.co.uk/welcome-back

Pubs are offering Click & Collect services via their app at www.wadworth.co.uk/app