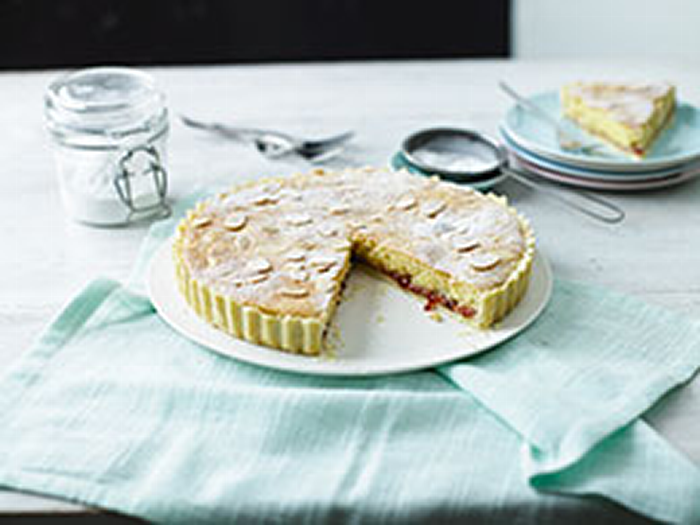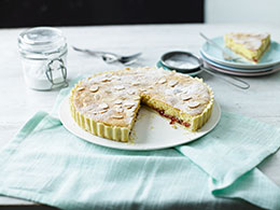 Sainsbury's Gluten-free Bakewell Tart
For an afternoon treat that's free from gluten, wheat and milk, you can't go wrong with this delicious Bakewell tart.
Credited to: Sainsbury's
Kcal:
Serves 6
30 mins prep
30 mins cooking time
Ingredients
100g (3 ½oz) plain gluten free flour*
50g (2oz) free from spread, cubed
½ lightly beaten British free-range woodland egg by Sainsbury's
2 tbsp (30g) strawberry jam by Sainsbury's
88g (3oz) free from spread, plus extra for greasing
88g (3oz) fairtrade white caster sugar by Sainsbury's
1 large British free-range Woodland egg by Sainsbury's, beaten
63g (2oz)ground almonds by Sainsbury's
25g (1oz) flaked almonds by Sainsbury's
2 drops taste the difference madagascan vanilla extract
Zest and juice of ½ a washed lemon
38g (1 ½oz) instant polenta
¼ tsp baking powder*
5g (1/3oz) flaked almonds by Sainsbury's
Notes: *Please check our Food and Drink Information for suitable products.
Method
Make the pastry. Put the flour into a medium bowl, add the spread and rub together using your fingertips until the mixture resembles breadcrumbs. Stir in the beaten egg and 1 tablespoon cold water until you have a soft, slightly wet dough, but be careful not to over-mix or your pastry will be dry and difficult to handle. Wrap the dough in cling film and chill in the fridge for 1 hour
Preheat the oven to 180°C/Fan 160°C/350°F/Gas Mark 4. Remove the dough from the fridge and unwrap, leaving the pastry in the centre of the cling film. Cover with another piece of cling film then gently roll out the pastry between the cling film. Use it to line a 20cm loose-bottomed fluted tart tin, trimming the edges. Set aside while you make the filling
In a bowl, cream together the spread and the sugar until light and fluffy. Beat in the eggs, and then gently fold in the remaining filling ingredients until well combined
Spread the jam all over the pastry base, and then top with the polenta filling mixture. Sprinkle the flaked almonds over the top and bake in the oven for 30-35 minutes until well risen and springy to the touch.
Hints and tips: