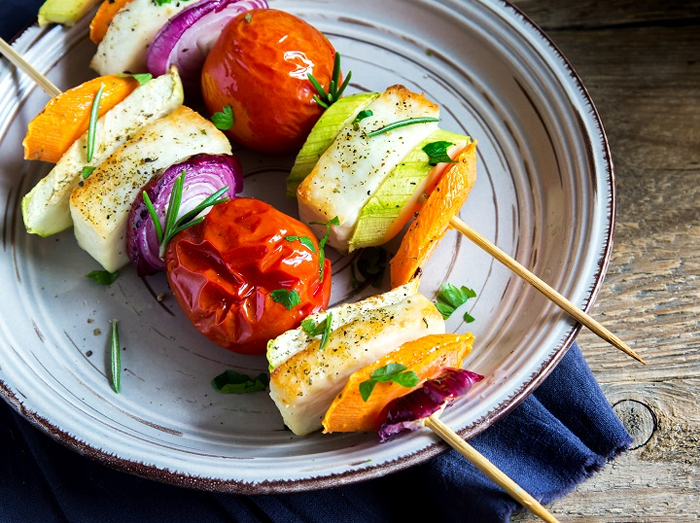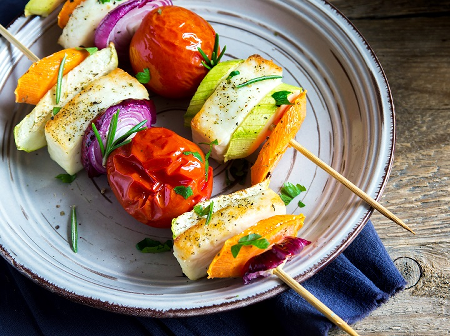 Vegetable and Marinated Halloumi Kebabs
Quick to put together vegetarian dish which is packed full of delicious Mediterranean flavour that provides 3 of your 5 a day.
Credited to: Coeliac UK
Kcal: 295.0
Difficulty: Pretty easy
Serves 4
30 mins prep
5 mins cooking time
Ingredients
250g Halloumi, cut in to large chunks
2 tbsps olive oil
Zest and juice of 1 lemon
1 tsp smoked paprika
1 clove garlic, crushed
2 tbsps oregano
1 red onion, cut into 8 wedges
1 red pepper, cut into 8 wedges
1 courgette, cut into 8 chunks
250g cherry tomatoes
Method
In a large bowl, mix together the lemon zest and juice, olive oil, smoked paprika, garlic and oregano. Add the halloumi and stir well to ensure it is fully coated in the marinade. Leave for 30 minutes or overnight if time allows.
Prepare your vegetables, and then thread the halloumi, onion, pepper, courgette and cherry tomatoes onto eight skewers. Cover and chill until you are ready to use.
Cook on the BBQ or grill for around 5 minutes, turning often, until the vegetables are just tender and the halloumi turns golden brown. Service warm.
Nutritional information per serving
Hints and tips: