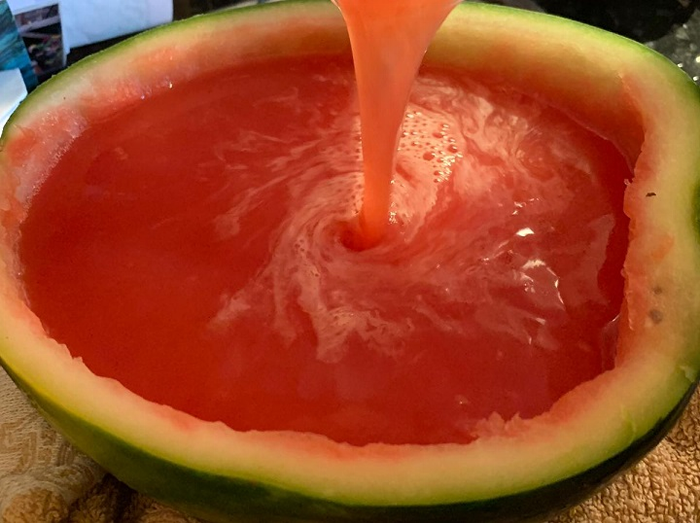 Watermelon Jelly
This is a fun way to use a watermelon and you can get the kids to help. A great dessert for a summer day and a refreshing dessert in the sun. You can also vary the recipe by adding blueberries to the juice before setting.
Credited to: Coeliac UK
Kcal: 74.8
Difficulty: More of a challenge
Serves 4
25 mins prep
640 mins cooking time
Ingredients
100g caster sugar
½ a watermelon (makes approximately 1000ml watermelon juice)
Approx. 24g gelatine powder
200ml hot water
Method
Cut the watermelon in half and scoop out the flesh inside into a bowl (don't worry about the seeds these will be removed later). Set aside the watermelon skin, as to be used as a bowl for later.
Blend the watermelon and then pass through a mesh sieve. Pour into a measuring jug so that you know the quantity of liquid you have. The medium watermelon we had gave us approximately 1000ml watermelon juice)
Add 100g sugar to the watermelon juice and stir.
In a separate bowl sprinkle gelatine into some hot water (approx. 100ml per 12g sachet). Mix well until the gelatine is dissolved. Follow the specific guidance on the gelatine powder pack. As a rough guide; One 12g pack will set 570ml liquid (one pint). We used two 12g sachets.
Add the gelatine to the watermelon juice. Pour the mixture into the watermelon skin and place in fridge to set for at least 8 hours, preferably overnight.
When you want to eat, you can either scoop from the bowl, or cut up so it looks like slices of watermelon.
Nutritional information per serving
Hints and tips:
Although it is possible to use gelatine leafs instead, the powder is much easier to use. You will need mesh sieve, measuring jug, blender/ food processor.