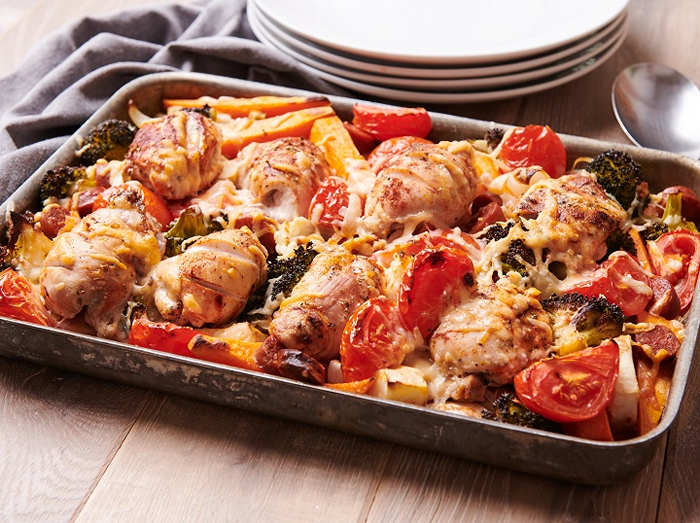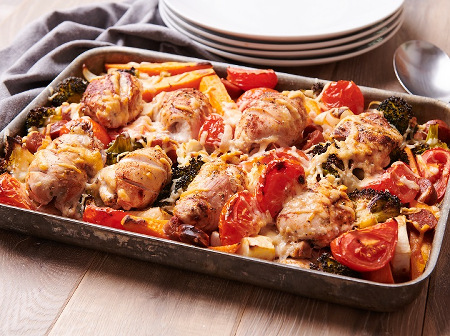 Tray Bake Chicken with Vegetables, Chorizo and Cheese
The flavour from the chicken and chorizo soak into the vegetables, creating a wonderfully flavoured meal with hardly any effort!
Credited to: Coeliac UK
Kcal: 808.0
Difficulty: Pretty easy
Serves 4
15 mins prep
45 mins cooking time
Ingredients
2 red onions, peeled and cut into 8 wedges
500g sweet potatoes, peeled and cut lengthways into wedges
300g broccoli, cur into florets
300g celeriac, peeled and cut into inch dice
8 whole garlic cloves, unpeeled
6 medium tomatoes, quartered
200g chorizo*, cut into 5mm slices
8 boneless, skinless chicken thighs
½ tsp dried oregano
100g parmesan cheese
Freshly ground black pepper
Method
Preheat the oven to 200°C/400°F/Gas Mark 6.
Put the onions, sweet potatoes, broccoli, celeriac, garlic, and tomatoes in a large roasting tin, and season with salt and pepper. Toss everything together lightly and roast for 20 minutes.
While the vegetables are roasting, slash the chicken thighs by putting 2 or 3 cuts across each one using a knife. Season all over with black pepper, paprika and oregano, and set aside.
Take the roasting tin out of the oven, and turn the vegetables a couple of times. Place the chorizo and chicken on top of the vegetables, and then sprinkle with the parmesan. Return to the oven for 35-40 minutes or until the chicken is cooked through and the vegetables are all tender.
Nutritional information per serving
Hints and tips: