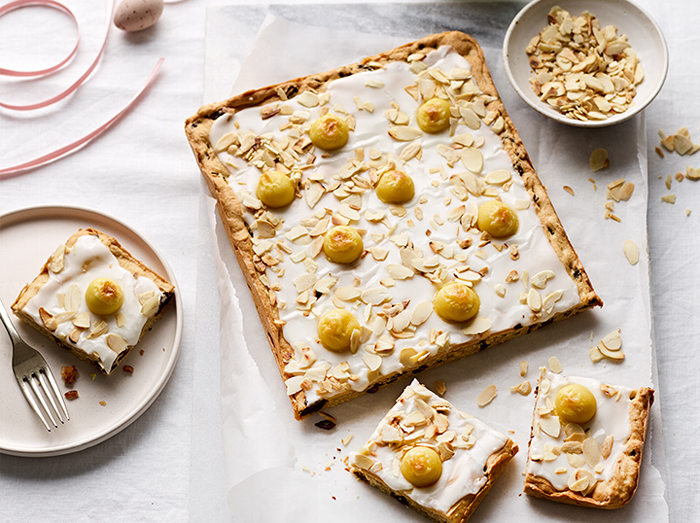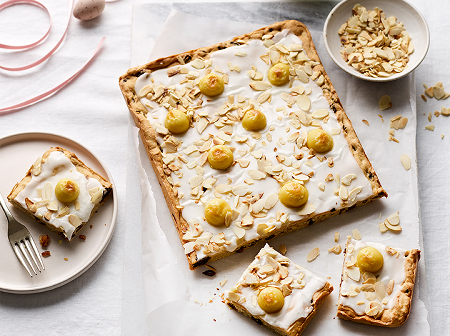 Gluten Free Simnel Traybake
Find all the seasonal flavours in this simple gluten free Easter traybake - great also to make with children. The number of marzipan balls on Simnel cake is traditionally eleven, representing the apostles of Christ, minus Judas.
Credited to: Freee
Kcal:
Difficulty: Pretty easy
Serves 8
15 mins prep
30 mins cooking time
Ingredients
175g FREEE Self Raising White Flour
1 tsp FREEE Xanthan Gum
1 tsp mixed spice
125g caster sugar
125g butter
3 eggs
50g ground almonds
150g mixed dried fruits
Decoration
200g marzipan
200g icing sugar
2 tbsp lemon juice
25g flaked almonds
Notes: *Search our online food and drink information for suitable products.
Method
Rub some oil around the inside of a 20x30cm/8x10" traybake tin or insert a cake liner and pre-heat the oven to 170°C, Fan 150°C, 325°F, Gas 3.
Put the flour, xanthan gum and mixed spice into a bowl and stir to combine.
Measure the caster sugar and butter into a mixing bowl and beat together until light and fluffy.
Break one egg into the bowl and beat to incorporate.
Add the ground almonds and stir.
Break the remaining eggs into the bowl one at a time beating well between each one.
Tip in the prepared flour and stir to incorporate.
Stir in the mixed dried fruit.
Spoon the mixture into the prepared baking tray and smooth the surface.
Bake for 30 minutes.
Decoration
Cut the marzipan into 11 equal pieces and roll them into balls.
Put the marzipan balls under a hot grill for a few minutes to lightly brown the tops. Remove and leave to cool.
Toast the flaked almonds under the grill for two minutes until light golden brown.
Put the icing sugar into a bowl, add the lemon juice and stir into a smooth icing.
Spread the icing thinly over the cold traybake.
Before the icing sets, place the marzipan balls randomly onto the traybake and scatter over the toasted almonds.
Slice the traybake and store in a tin.
Hints and tips: