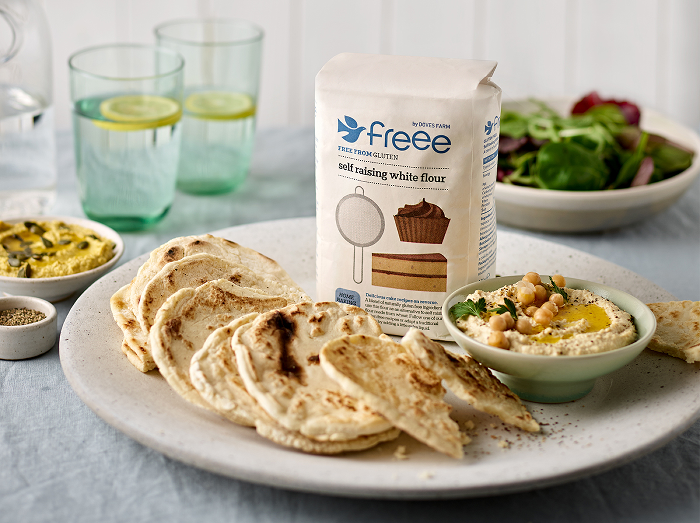 Gluten Free Flatbread
These gluten free flatbreads are so simple to make, only five ingredients needed. They can be cooked in a frying pan, on the griddle or on the BBQ. It's a perfect light meal to enjoy with dips and a salad in the sunshine.
Credited to: FREEE
Kcal:
Difficulty: Pretty easy
Serves 4
8 mins prep
3 mins cooking time
Ingredients
125g FREEE Self Raising White Flour* (available in their

gluten free food box

)

Pinch of salt

25g natural yoghurt

75ml tepid water

25g extra gluten free flour for dusting*
Notes: *Search our online Food and Drink Information for suitable products.
Method
Put the flour and salt into a large bowl and blend them together.
Measure the yoghurt and water into a jug, stir to combine and pour into the bowl.
Stir gently to form a soft dough.
Sprinkle the dusting flour onto a work surface, turn out the dough and cut it into 3 or 4 pieces
Gently flatten each piece of dough into 10cm / 4"circle.
Lightly oil a dry non-stick frying pan or griddle and heat until nice and hot.
Brush the top of each flatbread with water and transfer it to the pan, wet side down.
Cook for 2 - 4 minutes until the base starts to brown, depending on the heat.
Brush the top of each flatbread with water, turn it over and cook the other side for 2 - 4 minutes.
Wrap cooked flatbreads in tin foil and serve warm or cold.
Hints and tips:
Add cumin or nigella seeds for a bit of a twist.