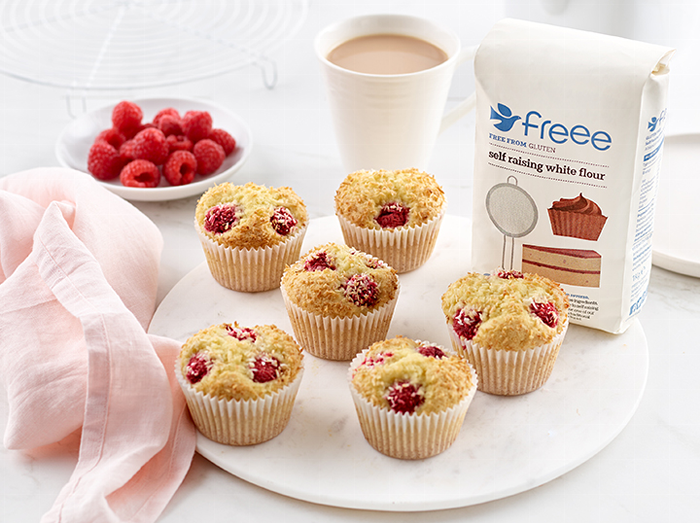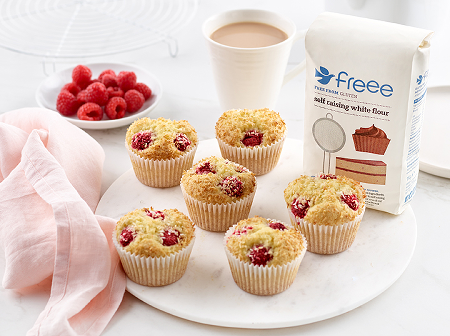 Gluten Free Raspberry and Coconut Muffins
These delicious muffins make the perfect dairy free and gluten free little treats.
Credited to: FREEE
Kcal:
Difficulty: Pretty easy
Serves 6
15 mins prep
25 mins cooking time
Ingredients
150g FREEE Self Raising White Flour *
100g caster sugar
50g desiccated coconut
1 egg
50g oil
4 tbsp water
125g raspberries
cupcake muffin cases
Notes: *Search our online food and drink information for suitable products
Method
Pre-heat the oven to 190°C, Fan 170°C, 375°F, Gas 5.
Stand 6 cupcake cases in the holes of a muffin or tart tray.
Measure the coconut into a bowl then remove a tablespoon of coconut for later.
Add the flour and sugar and stir to combine.
Break the egg into the bowl of a blender, add the oil and water and pulse until smooth.
Add the prepared flour blend and mix well.
Spoon the mixture between the prepared muffin cases.
Divide the raspberries between the cupcake muffins and pressing them into the top of each.
Sprinkle the coconut over the top.
Bake for 25-30 minutes.