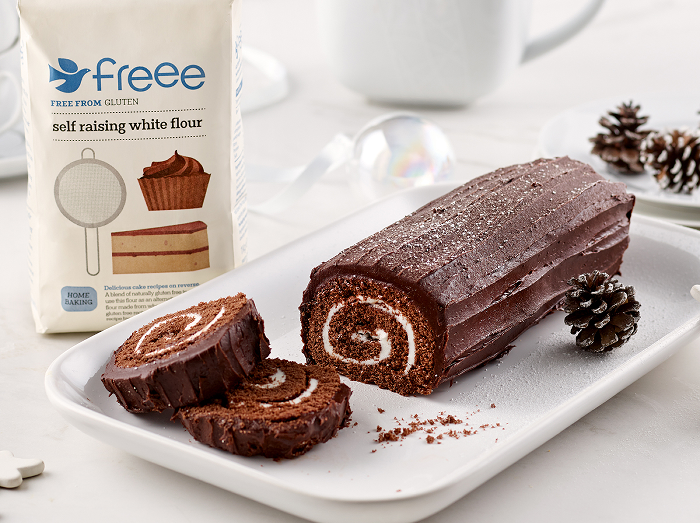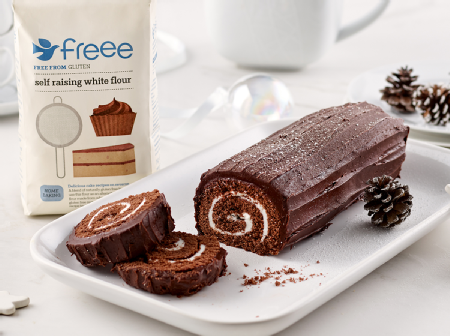 Gluten Free Chocolate Yule Log
This festive cake has a delicious vanilla buttercream filling and chocolate topping. When dusted with a little icing sugar it makes the perfect centrepiece for Christmas. It's also a great alternative to Christmas pudding for those who prefer a chocolate cake. It's so good, you would never know it's gluten free.
Credited to: FREEE
Kcal:
Serves 6
15 mins cooking time
Ingredients
Chocolate swiss roll sponge
35g cocoa
Butter, for tray
5 tbsp boiling water
5 eggs (or 4 tbsp freee organic chickpea flour + 8 tbsp boiling water + 1 tsp freee baking powder)
125g caster sugar
125g freee self raising white flour*
Vanilla buttercream filling
175g icing sugar
125g butter, softened (or vegan butter)
1 tsp vanilla extract
Chocolate topping
100ml cream (or vegan cream)
200g milk chocolate* (or dairy free chocolate)
1 tbsp icing sugar
Notes: * Find suitable products in our Food and Drink Information
Method
Chocolate Swiss Roll Sponge
Pre-heat the oven to 200°C, Fan 180°C, 400°F, Gas 6.
Rub some butter around the inside of a 23 x 33cm/9 x 13" baking tray or insert a baking liner.
Put the cocoa and water into a bowl, mix until smooth then set aside.
Break the eggs (or chickpea flour + water + baking powder) into another bowl and beat really well.
Add the caster sugar and beat for two minutes.
Sieve the flour into the bowl and beat for another two minutes.
Add the prepared cocoa mixture and beat for a further minute.
Tip the mixture into the prepared baking tray and spread it out to the edges.
Bake for 13-15 minutes.
Remove from the oven and leave the cake in the tray for two minutes then gently tip it out onto a tea towel. With the tea towel, gently roll the sponge up from the short end and leave to cool.
Vanilla Buttercream Filling
Sieve the icing sugar into a bowl, add the softened butter and vanilla extract.
Beat together until smooth.
Gently unroll the cold sponge, spread the buttercream evenly over the top, then roll the sponge up quite tightly from the short end, making sure the filling stays inside. You can use the tea towel to help with this.
Chocolate Topping
Put the cream into a saucepan, bring it to the boil then remove it from the heat and add the chocolate. Stir until smooth.
Cool the mixture for a few minutes, stirring occasionally as it thickens.
Spread the topping over the cake. Drag the prongs of a fork length ways through the topping to create a log-like texture.
Chill until set.
Sieve a little icing sugar over the cake before serving.