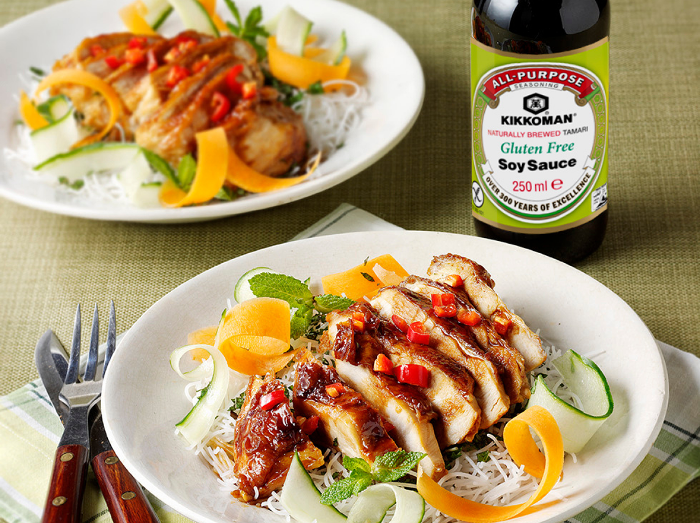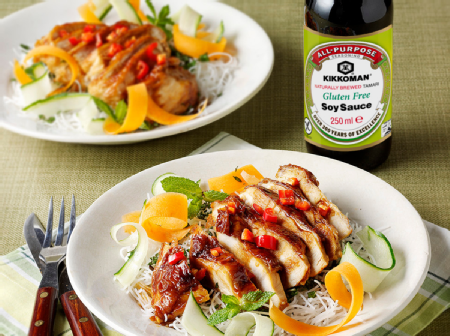 Caramelised Chicken With Lime And Mint
Juicy chicken marinated in tasty Kikkoman Tamari Gluten Free Soy Sauce, lime, honey and garlic, served with herby rice noodles. This easy gluten free chicken recipe will be a hit with the family.
Credited to: Kikkoman
Kcal: 483.0
Difficulty: Pretty easy
Serves 4
35 mins prep
20 mins cooking time
Ingredients
Juice of 2 limes
4 tbsp Kikkoman Tamari gluten free soy sauce*
2 garlic cloves, peeled and crushed
2 tbsp clear honey
4 chicken breasts, skin on or removed as you prefer
2 tbsp groundnut oil
200g dried rice noodles*
1 tbsp chopped fresh mint, plus extra sprigs to garnish
½ cucumber, cut into ribbons using a peeler
1 large carrot, cut into ribbons using a peeler
1 red chilli, deseeded and finely chopped
Notes: *Find suitable products on our Food and Drink Information
Method
In a shallow dish or bowl large enough to take all the chicken pieces, mix together the lime juice, Kikkoman Tamari gluten free soy sauce, garlic and honey. Add the chicken breasts and baste with the marinade until well coated. Set aside for 15 minutes or longer.
Heat the oil in a large frying pan, drain the chicken pieces and add them to the pan, skin side down if you've left the skin on. Cook over a medium heat until the chicken is browned underneath.
Turn the pieces over, lower the heat and pour in the marinade from the dish. Cover the pan and cook for 10 minutes.
Uncover the pan and cook for a further 5 minutes or until the chicken is cooked through and the sauce has reduced and started to caramelise.
While the chicken is cooking, boil or soak the noodles in hot water according to the packet instructions.
Drain the noodles, toss them with the chopped mint and divide between four serving dishes. Cut the chicken breasts into thick slices and arrange on top of the noodles with the cucumber and carrot slices around. Scatter over the chopped chilli and garnish with extra mint sprigs.
Nutritional information per serving
Hints and tips: