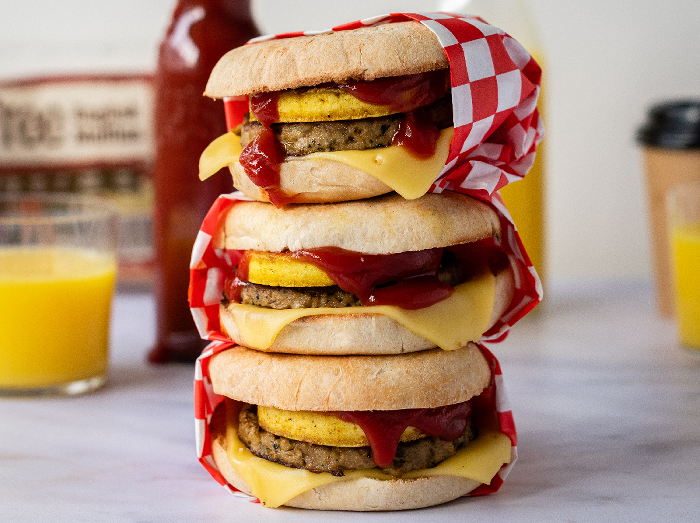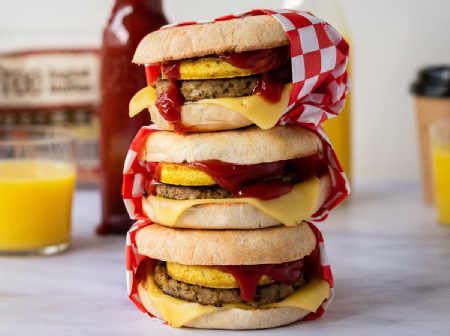 BFree Vegan Sausage & 'Egg' Muffin Fakeaway
For all of our Coeliac friends, the day has finally come to satisfy those takeaway cravings this month with our healthy take on this super delicious fake away breakfast Muffin! The black salt replaces the eggy taste.
Credited to: BFree
Kcal:
Serves 4
30 mins cooking time
Ingredients
1 packet of BFree English Muffins
450g block of tofu
4 vegan or vegetarian sausages
½ tsp turmeric
4 tbs light oil
½ tsp kala Namak/Black salt (egg like taste)
½ tsp salt
black pepper
2tbsp light oil for frying
To serve
Plant based butter
Tomato ketchup
4 slices vegan cheese
Notes: *search for suitable products on our Food Information service
Method
You can fry these or bake in the oven. If you are going to bake, hen pre-heat the oven to 180'C.
In a shallow bowl combine the turmeric, oil, black salt, sea salt and pepper with a fork. Set aside.
Cut the tofu into 4, 1-1.5cm thick slices. Using a round pastry cutter cut the tofu into discs, as big as you can get, or just leave as squares.
Do not discard the trimmings and leftover tofu, as they can be used for other dishes such as curries, or as scramble.
Place the discs into the turmeric marinade and coat. Set aside.
In a small bowl roughly mash the sausages.
Line a plate or baking tray with parchment and using another slightly larger pastry cutter, divide the sausage mix into four and press into the ring.
If you are baking, lightly drizzle with oil. Add the tofu to the tray and bake for about 15-20 minutes, turning halfway.
If you are frying, which is by far the quickest, lightly grease a pan and fry the sausages and tofu eggs for a few minutes on each side, until lightly golden and cooked through.
While the sausages and eggs are cooking, lightly toast the BFree English Muffins and butter.
Place a slice of cheese on the bottom, followed by sage and tofu egg. Tomato ketchup to finish.
Hints and tips: