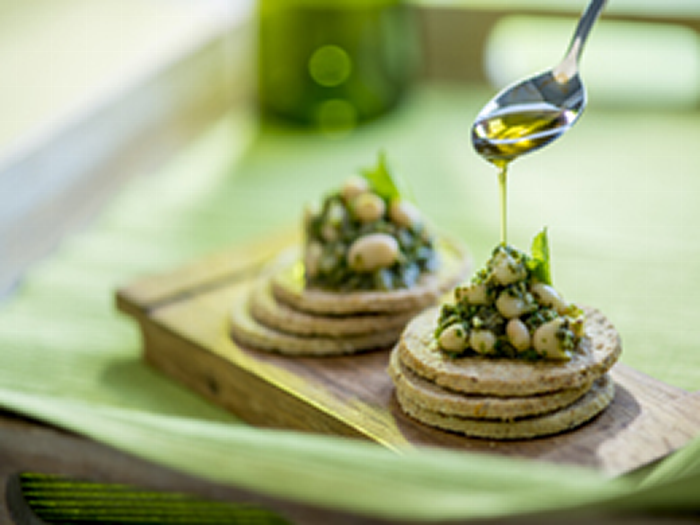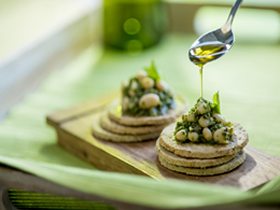 Cannellini Beans With Salsa Verde
Try this delicious topping on Nairn's gluten free oatcakes. It's easy to make and the soft creamy beans coated with a herby dressing make this a delicious healthy topping. For a vegetarian option omit the anchovies.
Credited to: Nairn's
Kcal: 114.0
Difficulty: Pretty easy
Ingredients
1tbsp olive oil
410g can cannellini beans, rinsed and drained
1 small onion, finely chopped
Salsa Verde
1 large handful of parsley
Handful of basil leaves
Handful of mint leaves
2 garlic cloves
2 anchovies, rinsed
2tbsp capers, rinsed
3tbsp red wine vinegar
1tsp Dijon mustard
Salt and pepper
60ml extra virgin olive oil
Gluten Free Oatcakes to serve
Notes: Topping for 12 oatcakes.
Method
Place all the ingredients for the salsa Verde except the oil in a food processor and process until roughly chopped. Slowly add enough oil to form a chunky paste
Heat a little oil in a frying pan and sauté the onion and beans for 1-2 minutes until the onion is soft. Pour over the salsa and stir to coat the beans. Spoon the mixture on top of the oat cakes to serve.
Nutritional information per serving
Hints and tips: