Bucks Support Group AGM 2019 Report
28 April 2019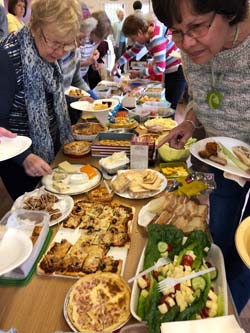 The Bucks Support Group AGM 2019 was held in the Park Room at the Stoke Mandeville Community Centre on Saturday 27th April. Brian Barnes, Bucks Organiser managed the meeting ,the first session was taken up with formal business which is not published in the public domain.
After a short break Brian Barnes introduced Hilary Du Cane , a dietitian and author. Hilary explained her wide range of activities as a dietitian. This included a commission to revise the most recent edition of Living Gluten Free for Dummies, copies of which were on sale at discount. Hilary has also been hired to give presentations to military catering staff at their training establishment.
Hilary's interesting presentation covered many topics including:
• Frequency of daily food intake,
• Calorific content of gluten-free foods,
• Emphasis on the importance of fibre intake as gluten free products can be low in fibre
• Body Mass/ Obesity
• Salt intake
• Product labelling
Brian thanked Hilary on behalf of the Bucks Support group

The meeting ended with another successful "Bring-& Share Lunch". A wide range of savoury and sweeter items provided by members was set out on the buffet tables.
Our thanks go to:

Juvela: Provision of goody bags

Raffle : Angela Davies
Bring & Share Lunch Co-ordination : Helen Castle, Judy Wheeler , Margaret Rutter, Carol Leddy
Date for AGM 2020: Sat. April 18th. Details nearer the time.
The meeting closed at 2pm