Your location: Home
Meet your committee
Meet your committee
In 2017 a new group of volunteers were elected onto the committee. Your committee are here to host and welcome you to events, share their experiences and knowledge of living gluten free and provide support. We are here for you so please do get in touch and come and say hello when you see us!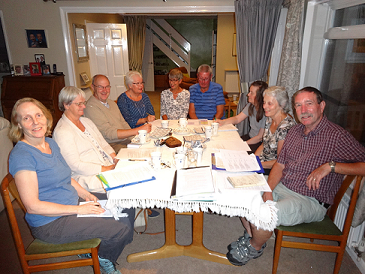 The Committee, L-R: Tracey, Pam, Andy, Anna, Jenny, Chris, Phillipa, Nicky, John
Anna Henderson – Group Organiser + BOGNOR/CHICHESTER area contact
Tracey Martin – Group Secretary + social media co-ordinator
John Johnson – Group Treasurer + WORTHING area
Nicky Johnson - Email Membership Secretary +WORTHING contact
Pam and Andy Whittaker – Postal Membership Secretary + WORTHING area contact,
Chris and Jenny Martin – HORSHAM area contact
Phillipa Caddy - BURGESS HILL & HASSOCKS area contact
All members of the Committee can be contacted by email to: westsussex@coeliac.org.uk
You will note that named committee members have special responsibility for their own area of West Sussex. We have done this so that we may give you, our members, the support and services you have specifically asked for locally while you can still dip into any of the local group's activities across the whole of West Sussex and continue to benefit from the overall expertise and knowledge of Coeliac UK. We will appoint contacts for more areas as the need arises.
Now that you know us better, we hope we'll get to see lots of you in the coming months!
Print page
Add to My Scrapbook