WIN a gluten free goodie box for someone you love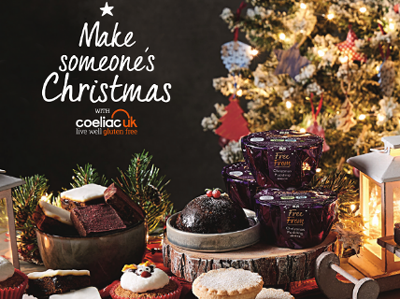 Christmas is a time for giving so why not share the love and nominate someone to receive a special goodie box stuffed with gluten free Christmas food from Co-op!
25 to be given away - winners drawn at random on 2nd December 2021.
How to enter
We are running the giveaway via social media. To enter, simply click in one of the social channels below and follow the steps:
Prize Details:
25 lucky nominees will each receive a special gluten free goodie box.
*Please note that prize delivery may be delayed due to the current situation.
Terms and conditions
1.1. These terms and conditions are in addition to Coeliac UK's Privacy Policy which you can view at www.coeliac.org.uk/privacy-policy
1.2. This prize draw is open to all UK residents over the age of 18 years. Entrants nominating themselves or children will not be included in the prize draw. No purchase nor donation is necessary to submit a nomination.
1.3. This prize draw is in no way sponsored, endorsed, administrated by, or associated with Facebook, Twitter or Instagram.
1.4. No responsibility can be accepted for nominations that are not received for any reason.
1.5. The prize draw is open from 22 November to 1 December 2021 inclusive. Any nominations outside these dates will not be counted. Winners will be drawn at random on 2 December 2021.
1.6. . On entering the prize draw, you agree to us contacting your nominee directly should they be selected as a winner. We will then secure their agreement to share their contact details (name, address and phone number) with Co-op so they can send the prize directly to them. In the event that the nominee has not been tagged, we will contact you.
2. Prize details
2.1. From all entries one winner will be selected at random.
2.2. Prizes will only be dispatched to addresses within the UK & Ireland.
2.3. The prize consists of one gluten free goodie box containing a range of Co-op products. The contents will not contain alcoholic drinks and all products will be gluten free but may contain other allergens. Individual items may be subject to change due to availability of products. Product labels should be checked for any allergens prior to consumption.
2.4. Please note prize delivery may be delayed due to current situation. If your nominee is chosen as a winner, we will notify them via social media. If we cannot contact them or if they do not respond within seven days, we reserve the right to offer the prize to another prize draw entrant.
2.5. Prize winners must be over 18 years and have a delivery address within the UK. One nomination per person. In the case of multiple nominations for the same person, only one prize can be granted.
2.6. Winners will be drawn on 2 December 2021. Co-op aim to deliver all gift boxes to arrive before Christmas. Coeliac UK cannot take responsibility for any delays in delivery, nor damage to any boxes or contents during transit.
2.7. Once winners have been selected, the Promoter will contact the nominee to check delivery details and eligibility for the prize winner only. The Promoter will make reasonable efforts to contact the nominee, however if a nominee has not responded within 2 working days, or if a selected winner is ineligible or unable to take up the prize for any reason, an alternative winner will be selected.
2.8. Prizes are non-transferable and no cash alternatives will be offered. In the case of unforeseen circumstances, the Promoter reserves the right to offer an alternative prize of equal or greater value.
2.9. The name or contact details of the nominee and winners will not be retained by Coeliac UK, nor by the Co-op, and will not be used for any marketing, nor shared nor sold with anyone else, other than is needed to deliver the prize.
Coeliac UK reserves the right to amend these rules at any time.